YukonU ensuring in-person supports available throughout Fall semester; orientation via video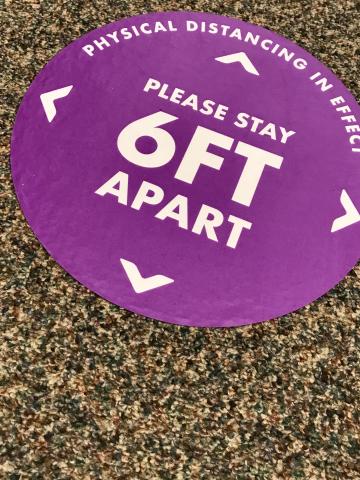 August 28, 2020
WHITEHORSE, YT—With most credit program instruction taking place online in the Fall semester, YukonU is ensuring students can access in-person academic and personal supports at all 13 campuses.  
"We know the shift to online learning due to COVID-19 comes with the loss of social contact and sense of community on campus. We expect students to be in greater need of in-person supports than ever before, so this is where our focus will be," said Dr. Janet Welch, vice president Academic and Student Services.  
"To protect the health and safety of students, employees and their loved ones, we can't offer in-person classes, but we want credit students to know that campus supports are here for them," added Welch. 
An in-person support hub is already up-and-running for students in Whitehorse to meet face-to-face with the Connect@YukonU team—program advisors, academic supports, personal and wellness supports, student engagement, First Nations and International student support. Based in the Kinnikinnick Kaff, students enter the hub via the Innovation Commons and access a physically distanced space containing multiple services in one place.  
The Innovation Commons is also open for students to access study spaces, Wi-Fi, desktop computers, laptops, and library services. There will be no on-campus food service this semester; however, the Campus Store is open 10 a.m. to 2 p.m. on weekdays. 
The use of face masks may be required for some in-person services where physical distancing cannot be maintained such as the Innovation Commons and in labs and shop class demonstrations.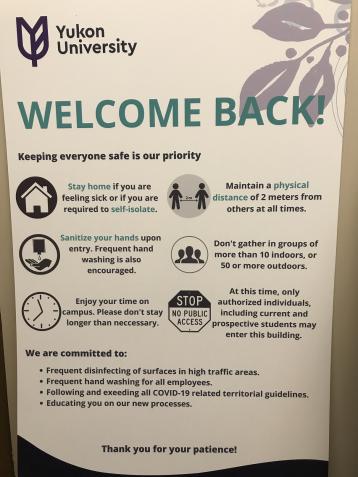 Students at campuses beyond Ayamdigut can access all supports via phone, text and video calls. In–person supports, study spaces, Wi-Fi access and desktop computers are available in community campuses by appointment. Check the campus webpages for hours of operation. 
Faculty have created six short online modules to guide students as they access online learning. The modules contain advice, how-to videos and exercises to set students up for success.  
Within credit programming, only Science, Nursing labs, Trades shop and SOVA classes will have in-person teaching. Class sizes have been reduced to six to eight students from 16 to 20 previously to ensure the "Safe Six" guidelines can be followed. 
Orientation Week activities look quite different this year. Instead of a series of events to orient students to campus and bring them together, students will receive links to a series of videos welcoming them to YukonU and showcasing all the supports available. 
"Instead of focusing on social events this week, we want to ensure students are connecting the support service staff names to faces, so they feel more comfortable reaching out when they need to," said Meaghen Kimmitt, student engagement coordinator.  
"I'll also be reaching out to students to get their ideas on how we can create some fun, social events, virtual recreation and online activities this semester, within the pandemic response guidelines," added Kimmitt. 
At a time when universities and colleges across Canada have recruitment challenges due to COVID-19, Yukon University is projecting only a 15% decrease in enrolments over the 2020-21 year, bringing annual credit student numbers to just over 1,000. 
Of the approximately 100 International students registered this semester, most are continuing programs they began before the pandemic hit. A handful were already in Canada and have transferred to YukonU from elsewhere in the country. 
Tuesday, September 1 is the first day of class for most programs. Fall semester registration is still open—the last day to register for Fall semester credit courses is Friday, September 11.