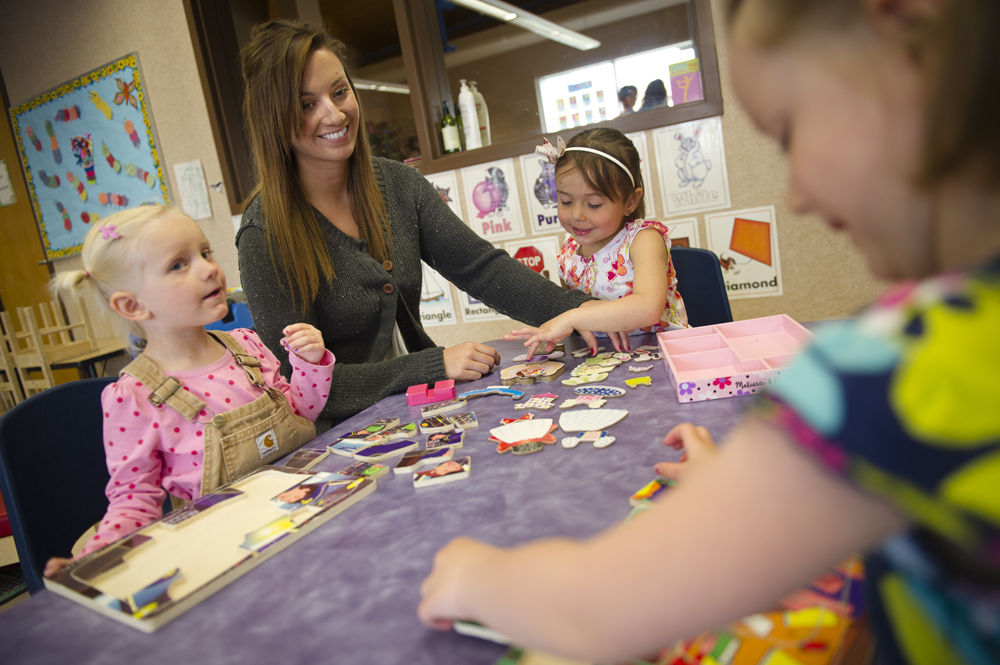 Open doors and imaginations.
Learn to support children and families in the early years of development and growth.
COVID-Related Program Delivery Information: PLEASE READ
While the pandemic persists, courses in the Early Learning Child Care Program will be delivered through a mix of methods.  Courses will be delivered in-person when safe, and online with some mix of scheduled ZOOM sessions and other online activities in Moodle, YukonU's online learning platform.
Whether classes are in person or virtual, attendance is essential and expected for all scheduled classes.
Online courses will require that you access to your own computer and Internet connection. 
More information about the online platforms that will be used for fall instruction can be found at www.yukonu.ca/student-life/technical-resources
Students new to online learning are encouraged to take the brief online introductory workshop Distance Learning Success.  Contact the Academic Support Centre for more information:
www.yukonu.ca/student-life/learning-matters/academic-support-centre
Program description
The objective of the Early Learning and Child Care (ELCC) program is to meet the needs identified by the community for the educational preparation of early childhood educators. 
We provide opportunities for students to develop the knowledge, skills and abilities necessary to provide early learning opportunities and child care for young children and families.
Throughout the program, students learn to assist children in all areas of growth and development.
Theory courses for the ELCC program offer the option of either face-to-face or video/online delivery.
---
Certificate program
The ELCC certificate program is currently undergoing review. Those wishing to complete only 100 level courses should apply for the diploma, and contact the coordinator for information.
---
Diploma program
The ELCC diploma program may be pursued on a full- or part-time basis and consists of 24 courses, including English, four practicum placements and three electives for a total of 66 credits.
To accommodate students wishing to complete the certificate or diploma program, courses in ELCC are restricted to program students.
Please note that course challenge exams are currently being phased out and will no longer be offered after March 30, 2022.
Admission requirements
ENGL 060: Introduction to Literature
Grade 12 graduation with English 12
---
Mature students
The ELCC program has offered the opportunity for mature students with years of experience in early learning centres to receive credit for prior knowledge gained in the field though Challenge Exams. Given the increasing focus on full and appropriate education as a requirement of early learning educators, these exams will be phased out over the 2021-22 academic year.
For now, students must be enrolled in the ELCC program to be eligible to challenge any ELCC course.
For more information, contact the instructor/coordinator at 867 456 6989.
Other requirements
Acceptable current criminal records check including vulnerable sectors
Current immunization, including tuberculosis screening
Yukon First Nations Core Competency
Yukon University recognizes that a greater understanding and awareness of Yukon First Nations history, culture and journey towards self-determination will help to build positive relationships among all Yukon citizens. As a result, you will be required to achieve core competency in knowledge of Yukon First Nations.
For details, visit Yukon First Nations Core Competency
Career opportunities
Early Learning and Child Care program graduates are qualified to work in the following areas:
early childhood educators in child care centres
family day homes, and preschools
program assistants in child development centres and child care facilities
educational assistants in kindergarten and the early grades
nannies, family support workers, and as child care licensing officers
Money matters
Fees
Tuition for credit programs is calculated per course credit. See money matters for more information.
Some programs and courses have additional fees -  see Ancillary Fees.
---
Student financial awards
Education is an investment in your future, your family and your community. Yukon University is pleased to support that investment by offering some of the most competitive tuition rates in the country, as well as several student financial awards to help offset your educational and living costs.
---
Financial assistance
There are government programs, scholarships, bursaries, awards and First Nation funding available to financially support you throughout your academic career.
Follow this link to government funding: http://www.hss.gov.yk.ca/ecebursary.php
See money matters for more information, or talk to our financial advising staff in the Student Services Centre. Email or call 867 668 5209 to make an appointment.