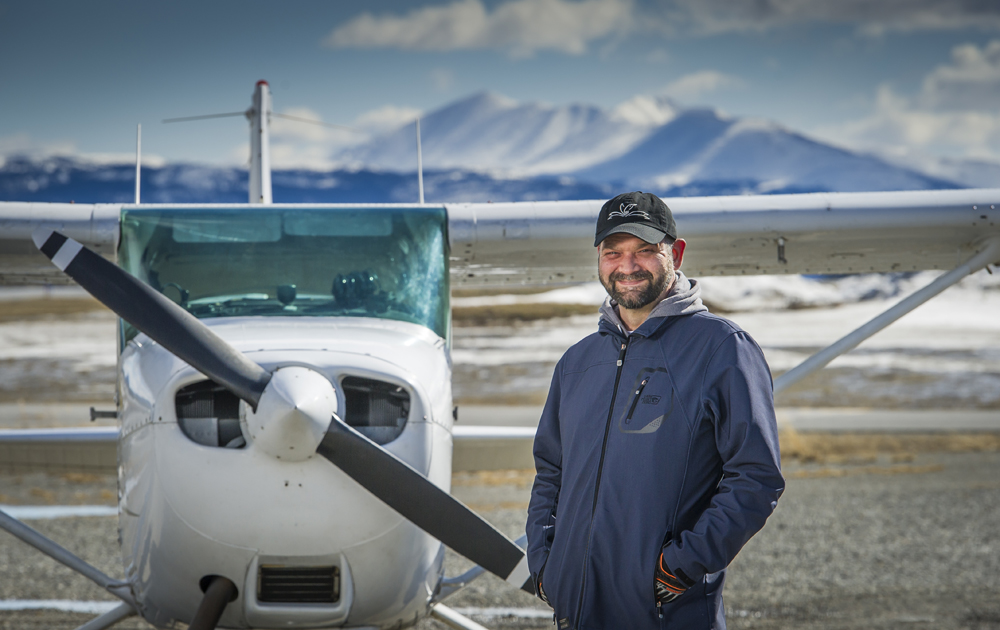 Earn your wings over the land of the midnight sun.
Get your commercial pilot license flying Yukon's clear blue skies while gaining practical business skills for a career in aviation and beyond.
Program description
The Aviation Management diploma trains in a unique northern climate that offers variable topography and an increased number of acceptable flying days.
The Aviation Management diploma comprises a block transfer of pilot training credentials earned at Alkan Air (or other recognized flight school) that equals one year or 30 credits and an additional 30 credits earned at Yukon University. Students are expected to earn a commercial pilot license while concurrently earning academic credits. However, students may enter the program with some pilot training (a private pilot license for example) or a completed commercial license.
Students may complete the ground school and flight training component of the Aviation Management diploma in a flexible manner. The majority of ground school courses will occur during the evening at Alkan Air and flight training must take place during daylight hours (exception is night time flight training). Students may participate in ground school courses and flight training throughout the calendar year and these components are completed on an individualized basis. All flight training components are organized directly with Alkan Air Flight School.
In order to attain a Commercial Pilot License, students must first be endorsed with a Private Pilot License (included in the Aviation Management program). The Private Pilot License component consists of 45 flight training hours (minimum). The Commercial Pilot License component consists of 200 hours (minimum) of total flight time. The Private License and Commercial License components involve a number of Transport Canada regulated flight training courses and exams.
Students receive a Diploma of Aviation Management after successfully completing Transport Canada's Commercial Pilot License, Yukon First Nation core competency, a total of 10 academic courses (30 credits) over a two-year period, as well as a 40-hour, non-credit course in Advanced Wilderness and Remote First Aid/CPR-C.
Admission requirements
Students may enter the two-year Aviation Management diploma when they have met the following requirements:
Grade 12 academic graduation with English 12 and Math 11 (Applications, Principles, Foundations or Pre-Calculus).
Applicants whose native language is not English and who are not Canadian citizens can meet the English language admission requirement by presenting an acceptable TOEFL or IELTS score.
Part-time students not fully meeting the above criteria may be admitted to individual courses, but must apply for admission to the program - and satisfy the program admission requirements - prior to graduating with either a certificate or diploma.
Those who do not have these entrance requirements may pursue Access Pathways to Business Administration, completing courses necessary to earn pre-requisites to apply to the Aviation Management diploma program.
Other requirements
Category 1 aviation medical exam
Yukon First Nations Core Competency
Yukon University recognizes that a greater understanding and awareness of Yukon First Nations history, culture and journey towards self-determination will help to build positive relationships among all Yukon citizens. As a result, you will be required to achieve core competency in knowledge of Yukon First Nations.
For details, visit Yukon First Nations Core Competency.
Transferability
The business related portion of the Aviation Management diploma may be transferable to other institutions. Comprehensive transfer agreements are in place with the following institutions and organizations:
Athabasca University
Okanagan College
Royal Roads University
Chartered Professional Accountants (CPA)
Thompson Rivers University/Open Learning
University of Lethbridge
University of Northern British Columbia
Many of the courses in the Business Administration program are also listed in the BCCAT Transfer Guide.
Money matters
Fees
Estimated program costs for two-year diploma $70,000 - $80,000
Ancillary and additional fees also apply
For more details on tuition and ancillary fees, see tuition and fees or email the Program Coordinator/Instructor.
---
Financial Assistance
There are government programs, scholarships, bursaries, awards and First Nation funding available to financially support you throughout your academic career.
The financial advising staff in the Student Services Centre at Yukon University is available to answer any questions you may have about eligibility requirements, application forms or the application process.
For more information, please email the Student Services Centre or call 867 668 5209.