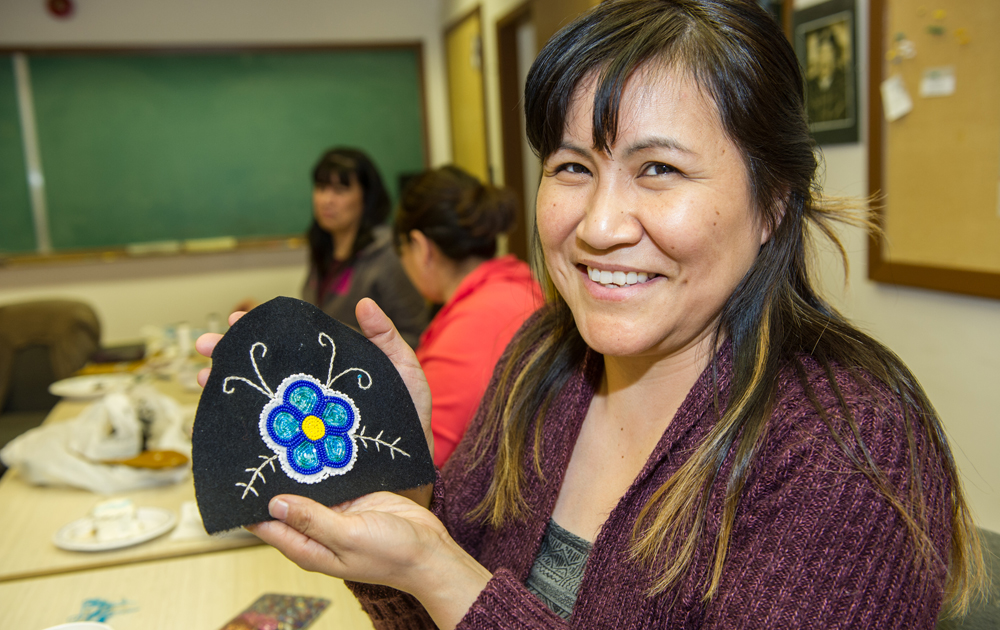 Learn. Create. Build a career in the First Nation arts.
The Yukon First Nations Arts certificate program is open to learners interested in developing their artistic skills in Indigenous visual arts while concurrently improving their reading, writing, numeracy and computer skills.
COVID-19 and the Yukon First Nations Arts Program in 2021-2022
The Yukon First Nations Arts certificate program will be offering core courses, on site, in the following communities in 2021-22: Carcross, Dawson, Haines Junction, Ross River, Ta'an Kwach'in (Whitehorse) &  Watson Lake. Students are encouraged to check this page regularly for updates on these course offerings as well as details on future offerings.
On an on-going basis, students can also enroll in upgrading English and math courses required for the YFN Arts certificate, as these courses are available entirely online or through a combination of scheduled video-conference sessions and online learning activities.
Contact Elizabeth Bosely (ebosely@yukonu.ca) for assistance or for more information about the Yukon First Nations Arts program.
Program description
The Yukon First Nations Arts certificate program  (YFN Arts) consists of University Access Pathway courses in English and math and art courses in contemporary and traditional Indigenous visual arts and crafts. The art modules will be delivered in a sequential manner to ensure students' learning experiences build on and further their artistic abilities.
Throughout the program, students will learn from "hands-on" instruction in beadwork, sewing, traditional footwear, carving, and fine craftwork. The Small Craft & Product Development module will encourage students to perfect their skills, and apply them to the production of high quality traditional arts and contemporary arts and crafts. After completion of the art modules, students will have the skill set to design and produce unique, innovative products.
The art courses will be supplemented with a career exploration module that will allow students to explore the knowledge, essential skills and personal entrepreneurial characteristics required to manage and promote their art careers. 
Admission requirements
Be 17 year of age or older.

Submit personal statement on why applicant has a strong interest in indigenous visual arts.

Must achieve acceptable scores on University Assessment for placement in math and English.
Graduation requirements
To receive a Yukon University certificate in the Yukon First Nations Arts program, students must:
Pass all of the courses in the YFN Arts certificate program.

Maintain a minimum 2.7 cumulative GPA (B- average, 65-69%).
Employment
YFN Arts certificate program graduates will be prepared for employment in community-based art production centers, heritage centers, museums, First Nations governments or as contractors for commissioned artwork and sales. Many graduates will choose to work as independent artisans, producing original arts and crafts for the expanding local and international markets.
Transferability
Adult Basic Education courses completed in the British Columbia Council on Admissions and Transfer (BCCAT) system are eligible for transfer in the program.
Yukon First Nations Core Competency
Yukon University recognizes that a greater understanding and awareness of Yukon First Nations history, culture and journey towards self-determination will help to build positive relationships among all Yukon citizens. As a result, you will be required to achieve core competency in knowledge of Yukon First Nations.
For details, visit Yukon First Nations Core Competency
Money matters
Fees
Tuition for credit programs is calculated per course credit. See money matters for more information.
In addition to tuition, students are required to pay a student council fee and a mandatory technology fee - see Ancillary Fees.
Students must purchase their textbooks. Paper and other supplies are the responsibility of the student. Math students will require a scientific calculator.
NOTE: Students are encouraged to have sponsorship or payment of tuition arranged before meeting with a Program Advisor. This will enable students to be registered in their courses without delay and purchase textbooks and additional supplies in order to be prepared for the first day of classes. Acceptance into the program does not guarantee a space.
---
Student financial awards
Education is an investment in your future, your family and your community. Yukon University is pleased to support that investment by offering some of the most competitive tuition rates in the country, as well as several student financial awards to help offset your educational and living costs.
---
Financial assistance
There are government programs, scholarships, bursaries, awards and First Nation funding available to financially support you throughout your academic career.
See money matters for more information, or talk to our financial advising staff in the Student Services Centre. Email or call 867 668 5209 to make an appointment.