Yukon College is now Yukon University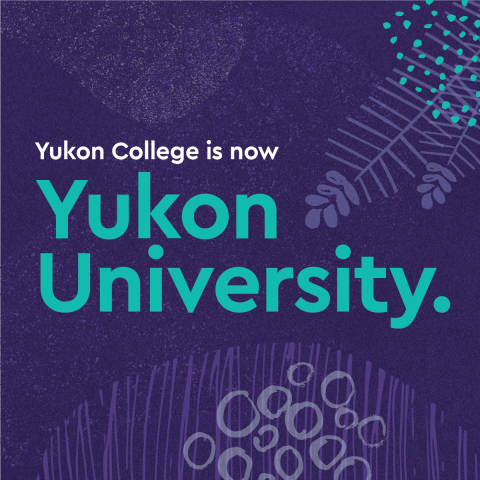 May 18, 2020
WHITEHORSE, YT—Yukon now has a university and Canada has a university north of 60°.
Guided by Yukon communities and the 14 Yukon First Nations, Yukon University (YukonU) is grounded in reconciliation and the northern experience.
With over 50 degree, diploma, certificate, trades and university prep programs, YukonU will continue the tradition of northern-focused education, training and applied research established by Yukon College, while expanding opportunities for northerners.  
The establishment of Yukon University achieves a significant objective of the institution's 2013 and 2016 multi-year strategic plans. Both plans were created following extensive consultation with Yukoners and set by the board of governors, which draws representation from Yukon First Nations, Yukon communities, students and employees.
Since 2012, the board of governors, senior executives, faculty and staff have consulted extensively with Yukoners, researched new universities in Canada and universities across the circumpolar North, collaborated with the Government of Yukon to establish quality assurance through Campus Alberta Quality Council and developed and launched two degree programs.
Yukon University is currently consulting with Universities Canada on a pathway to becoming a member in due time.
Until we can celebrate in large groups again, the launch of Yukon University is being marked with a renewed website at YukonU.ca and rebranded social media channels, all featuring the YukonU logo and fresh institutional colours. Yukon University clothing and YukonU accessories are now available for purchase at YukonU.ca/campus-store.    
Online registration is open for Fall semester courses. Fall course and student support delivery options will be announced soon. 
Quotes 
"The time has come for a university in Yukon. Since 1963, our journey is one of constant evolution to meet the changing needs of our students and our community. As YukonU, we promise to continue anticipating and meeting your education and research needs, to offer an accessible pathway for every learner, and to contribute to a strong, resilient north. Thank you to everyone who has supported our journey along the way. Together, we are forging a bold, innovative future."  
Dr. Karen Barnes, Yukon University President and Vice Chancellor. 
"The Government of Canada is pleased to join all Yukoners in celebrating Yukon College's transition to Yukon University, Canada's first university north of 60°. I am thankful to have had the opportunity to tour the facilities earlier this year. Although we must mark this milestone at a distance, it does not diminish the importance and pride we all have on this occasion and I look forward to celebrating in person with you soon. The Government of Canada will continue to work in partnership to support education, training and research that includes Northern and Indigenous knowledge and perspectives and to bring more numerous and diversified post-secondary educational options to the territories." 
The Honourable Daniel Vandal, P.C., M.P., Minister of Northern Affairs
"With the opening of Yukon University, Canada joins other Arctic nations in moving forward with a world class education for Northerners by Northerners. Yukon University will open new doors for Arctic and climate change research, and expand post-secondary options for Yukon students, right here at home.  This is an incredible initiative years in the making."
The Honourable Larry Bagnell, P.C., Yukon M.P.
"Yukon First Nations have represented a significant percentage of the college's student population and we have made our mark in terms of affecting its future path. As Yukon University, higher learning will expand its scope on northern and First Nations issues and provide our people with more opportunities to contribute to their governments, their communities and society as a whole."
Peter Johnston, Grand Chief, Council of Yukon First Nations
"In 1973, First Nation leaders called for a university in Yukon. In 2020, the launch of Yukon University – Canada's first university north of 60° – honours that call and breathes life into that vision. This is a northern university that will meet the diverse goals and needs of all Yukoners, as well as students from outside the territory, well into the future."
Yukon Premier Sandy Silver
"Yukon University is Canada's first university in the North, for the North and by the North. As a hybrid university, it will be a hub for international Arctic and northern research while continuing to offer degrees and trades programs that meet the learning needs of all Yukoners. This marks a new chapter for post-secondary education in Yukon that will help to enrich our communities and create social and economic opportunities for the people of the North."
Tracy-Anne McPhee, Minister of Education
"The evolution of Yukon College over the past 57 years has been nothing short of phenomenal and I am incredibly proud to see it take this historic step, becoming the first territorial university in Canada. By building on its well-established history and expertise, Yukon University will bring even more opportunities to learners in Canada's North, as well as to the many communities it serves."
Denise Amyot, President and CEO, Colleges and Institutes Canada (CICan)
"The BC Association of Institutes and Universities (BCAIU) congratulates Yukon University in attaining university status. The BCAIU represents the interests of eight post-secondary institutions in BC (Teaching Universities and Institutes), and Yukon University joined our organization in 2016. Our commitment is to generate, develop and support adoption of initiatives that positively influence change in higher education. Our diversity is our strength and having Yukon University as part of our organization enhances that diversity."
Ruth Wittenberg, President, BC Association of Institutes and Universities
Note: Due to COVID-19, for the health and safety of all Yukoners, celebrations planned to mark this historic milestone are postponed until guidance from the Yukon Chief Medical Officer of Health indicate such gatherings can occur safely.
About YukonU 
Yukon University is a flexible post-secondary institution that includes a place and pathway for every learner. Our students let their passions roam while being grounded in education and research relevant to the North. Our resourceful and creative graduates are building a resilient, versatile and ambitious future for all northerners. 
With over 50 degree, diploma, certificate and trades programs, local learners can access opportunities without needing to leave home — those from across Canada and internationally are invited to deepen their understanding of our rapidly changing circumpolar world.  
Our 13 campuses are located on the traditional territories of the 14 Yukon First Nations and we respect and honour Yukon First Nations knowledge, worldviews and educational priorities in every aspect of YukonU.
YukonU Quick Facts 
For more information, contact: