Yukon College recognized as ready to offer its own undergraduate degree programs
December 14, 2017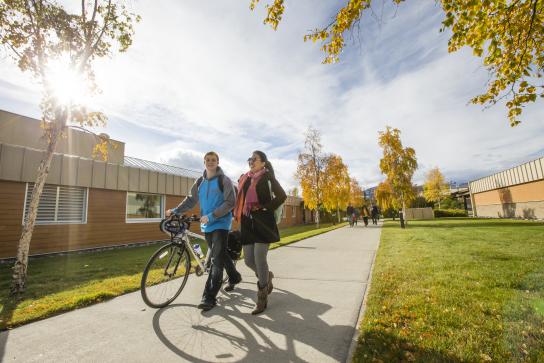 The Campus Alberta Quality Council (CAQC) has recognized Yukon College's readiness to deliver and sustain its own high-quality undergraduate degree programs following an organizational evaluation process. This marks the first time that a post-secondary institution in any territory has been evaluated to grant degree programs.
CAQC is an arm's-length agency that evaluates the quality of proposed degree programs. Following a memorandum of agreement between the Governments of Yukon and Alberta, CAQC reviewers visited Yukon College in June 2017 to assess the college's preparations. This fall they confirmed that the college meets the organization criteria and standards to deliver made-in-Yukon degree programs.
As a result of a second memorandum of agreement signed between Yukon and Alberta in September 2017, CAQC will provide ongoing quality assurance for Yukon College. This includes the review of new degree programs and monitoring them after implementation.
Yukon College's proposed Bachelor of Arts in Indigenous Governance program is currently under evaluation. The college plans to launch the its first degree in September 2018.
Quotes
"The Government of Yukon is proud of Yukon College's strong showing in this organizational evaluation. As the college prepares to become a university, this recognition shows that it already has a strong foundation and high standards for education and research. We will continue to work with Alberta and the Campus Alberta Quality Council to ensure the college's proposed degree programs meet established national and international quality assurance standards so that students have more post-secondary opportunities here in Yukon."
–Minister of Education Tracy-Anne McPhee
"We know the future prosperity of our provinces and country will benefit greatly from a skilled and educated workforce. For years, the Council has assisted in preparing Alberta's post-secondary graduates in achieving success by ensuring high quality educational programs are offered. The Government of Alberta is proud that the Government of Yukon and Yukon College now have an ongoing relationship with the Campus Alberta Quality Council to ensure the same high quality educational opportunities are available to students in the north."
–Government of Alberta Minister of Advanced Education Marlin Schmidt
"Achieving this significant milestone in our institutional journey was made possible by a remarkable team of faculty and staff at Yukon College. We are pleased their dedication and hard work was recognized by CAQC and look forward to presenting our first degree for evaluation."
–Yukon College president and vice-chancellor Dr. Karen Barnes                                                   
Quick facts
Quality assurance councils or boards exist in most provinces to ensure quality and equivalency across degree levels and post-secondary institutions.

Yukon College does not currently require the approval of an external quality assurance council for any certificate or diploma programs it offers since certificate and diploma programs offered by post-secondary institutions in Canada are subject to internal quality assurance processes.