Measuring microplastics in Whitehorse air
Monday, May 30, 2022 - 9:15 pm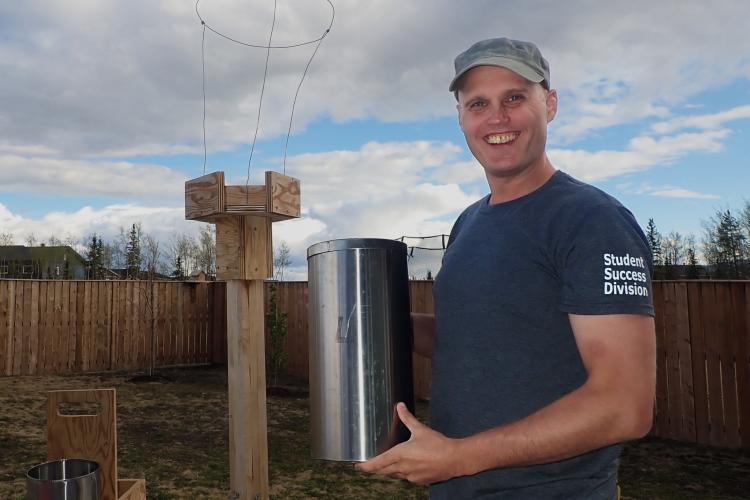 YukonU Instructor Dr. Jonathan Postma is pioneering a microplastic study in the Yukon with the help of student research assistants. Over the past two years he has measured microplastics in the air over the Whitehorse area to create a baseline for future comparisons. This study makes the Yukon one of few locations worldwide that are collecting atmospheric microplastic data! 
John collected the microplastic samples by constructing a fly trap of sorts: a 40cmx20cm standardized can containing ultra-purified water that traps atmospheric fallout, dust and fine particles, in the water on contact. Eight cans were placed in four locations and exchanged monthly for continuous measurements. In the YukonU research lab, John and his student research assistants, Maude Bergeron Lambert and Sophie Di Tullio, filtered the water through micrometer filter paper made of fiberglass and counted the microplastics visually under a microscope. This data is used to compute microplastic fallout rates in fibers per square meter per day.  
Collecting and analyzing atmospheric microplastic fallout data will allow us to monitor microplastic pollution over time. The long-term effects of microplastics on nature, wildlife and humans remain to be seen and understood. John hopes that this low-cost, easy to use system of data collection could be used in Yukon communities as a citizen science project to get a bigger picture of microplastic content throughout the territory. A paper detailing John's research and results has been published. This project, including student salaries, was made possible by the Scholarly Activity Grant. 
Written by student communications assistant, Naomi Dedon.