Mine revegetation research 
Thursday, June 1, 2023 - 9:14 am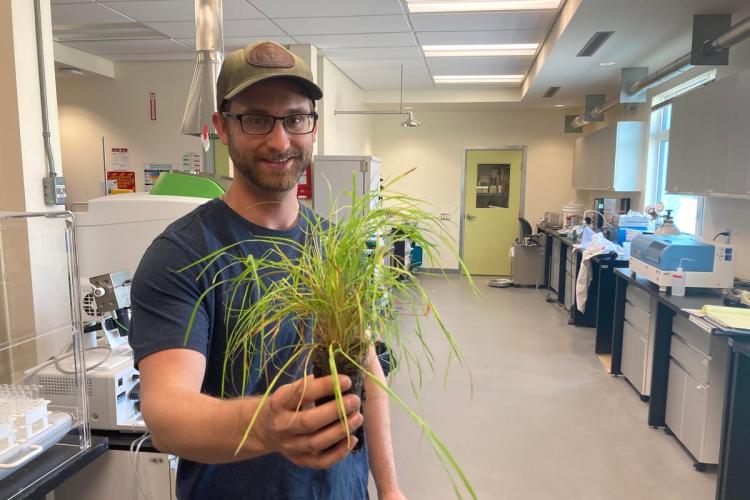 There are big plans this field season for a mine revegetation project with the help of Master's student and recent Northern Environmental and Conservation Sciences graduate, Ben Budzey. 
The Northern Mine Remediation research program has developed innovative northern revegetation methods to support plant regrowth in a harsh northern climate. Ben's team will plant rows of fireweed and Canada bluejoint grass at the project site, as these native plants are resilient to site conditions. The survival and growth of these transplanted seedlings will be compared with the presence and absence of biotic and abiotic vertical structures (using green alder, snow fences, and a distanced control area) that were planted/installed in summers 2021 & 2022). Periodically, the physical characteristics (snow depth, soil moisture and temperature) and biological characteristics (carbon and nitrogen fixation) between each area will be compared. Some seedlings will also be amended with biocrust (a community of organisms that colonize the soil surface) to see the effects of this. 
Revegetation methods reduce further damage and disruption to the soil after surface mining and restore ecosystem function which helps to mitigate irreversible cascading effects to the soil, water and air that may be detrimental to wildlife and human health.  
The project will be completed in spring 2025 and will result in a thesis as well as the potential for peer-reviewed publications thanks to funding from NSERC; Mitacs; and the Yukon Mining Research Consortium (Casino Mining Corporation, Newmont Goldcorp, Selwyn Chihong Mining Ltd., Victoria Gold Corporation, and Hecla Mining Company). This project is located at the Minto Mine which is on the Traditional Territory of the Selkirk First Nation.   
Ben will obtain his MSc in Soil Science, through the University of Saskatchewan in partnership with YukonU. 
Written by student communications assistant, Naomi Dedon.