Students study Chasàn Chùa on Ayamdigut campus!
Monday, July 25, 2022 - 4:10 pm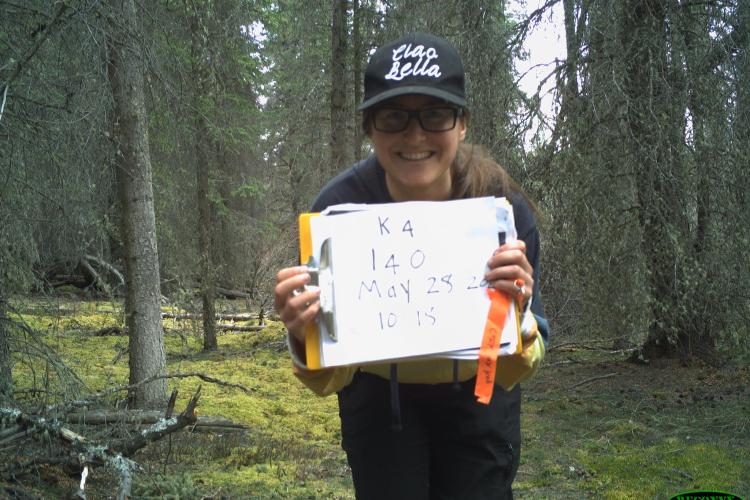 YukonU students can study the biodiversity of McIntyre Creek (or Chasàn Chùa (Copper Creek) in Southern Tutchone) to learn how humans and wildlife utilize the area right on the Ayamdigut campus in Whitehorse! During 2021, Renewable Resource Management (RRMT) Instructor Scott Gilbert, along with two student research assistants, participated in a collaborative study with Canadian Parks and Wilderness Society (CPAWS Yukon) on the full McIntyre watershed. This research will not only provide further insight into wildlife activity and ecology, which can be incorporated into YukonU courses, but also inform planners for future development and its influence on the wildlife corridor. 
Scott was able to hire Chantelle Gervais (pictured), a Northern Environmental and Conservation Sciences (ENCS) student and Line Jensen, a first year RRMT student, with the YukonU Scholarly Activity Grant. Former ENCS graduate Maegan Elliott, who had previously gathered information on the area, provided coordination and direction for this team over the summer in her position as Conservation Coordinator for CPAWS Yukon. Chantelle and Line expressed appreciation for the experience this project provided them; they recalled the ability to work alongside experts in their field and explore their local environment to be invaluable. 
Chasàn Chùa, the creek's original name meaning Copper Creek in Southern Tutchone, is a wildlife corridor that passes through the city of Whitehorse, in the Traditional Territories of the Ta'an Kwäch'än Council and Kwanlin Dün First Nation. 
Our ENCS degree program is offered at YukonU through the University of Alberta.  
Written by student communications assistant, Naomi Dedon.