Cooking up a nutrient broth for nitrate-consuming bacteria!
Wednesday, February 2, 2022 - 9:20 am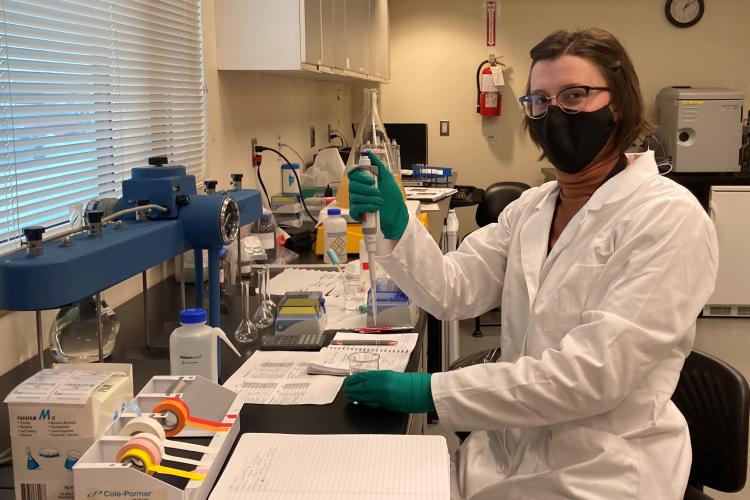 Taylor Belansky is a student research assistant working on a method for treating contaminated mine water with native bacteria from the Minto Mine site. This is a Master's degree project built in partnership with the Institut national de la recherche scientifique (INRS) and YukonU's Northern Mine Remediation research program. 
During the blasting process at the mine, nitrates are released into the environment. While nitrate exists naturally in the environment and is an essential nutrient for plant growth, too much can cause problems. Think of that as 'too much of a good thing'! A surplus of nitrate can cause overgrowth of plants like algae or plankton which is harmful to wildlife. Similarly, if humans consume water that contains too much nitrate, it is harmful to our cells. Taylor's project is therefore not only beneficial to the physical environment, but to wildlife and human health by extension.  
Last Fall, Taylor collected samples of water and soil from various locations at the Minto Mine to capture native bacteria. Now, she's in the lab cooking up some nutrient broth to figure out what the bacteria enjoy eating most. The team aims to design a system that will work in cold Yukon temperatures, specifically to treat the Minto mine contaminants. This project was made possible by our NSERC Industrial Research Chair in Northern Mine Remediation, Dr. Guillaume Nielsen, funding from Mitacs, and direction from the Yukon Mining Research Consortium. The Minto Mine sits on the traditional territory of the Selkirk First Nations. 
Written by student communications assistant, Naomi Dedon.