Beat the Peak and reduce energy consumption
Tuesday, January 25, 2022 - 3:23 pm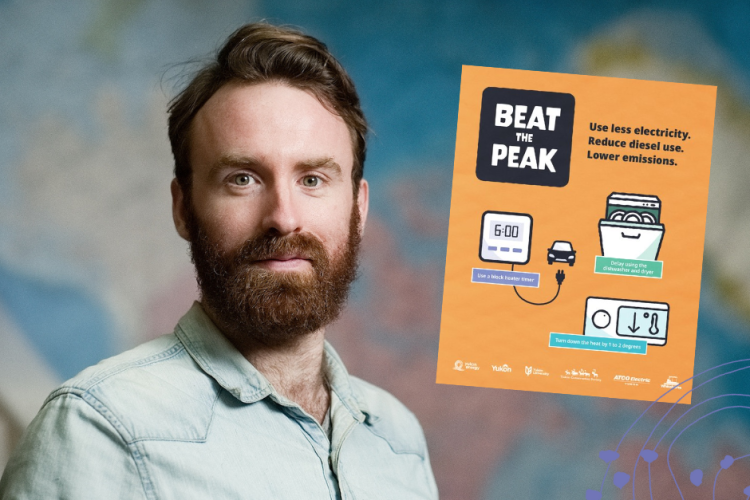 When winter hits and the temperature drops, Yukoners tend to turn up the thermostat and leave the lights on longer. Yukon Energy must meet this peak demand for electricity by using more diesel generators, resulting in higher emissions.
Joe Collier and student research assistant, Inderjeet Kaur at Northern Energy Innovation are exploring a means of reducing our reliance on diesel to meet our needs in the winter months through the Beat the Peak campaign. This campaign will alert participants when a peak is expected to happen and suggest ways that they can reduce their contribution to the peak.  
This campaign will encourage customers to reduce energy use when energy demand (and energy prices) is highest. Joe and his team will assess the effectiveness of reducing winter peaks and use feedback from users to refine the program. This matters to Joe, and likely many other Yukoners, because he has concerns about energy usage in the territory and is interested in increasing efficiency. A goal of this campaign is to give people more autonomy over their energy consumption by providing Yukon residents with the information about how and when to reduce emissions. Joe and his teams are directly involving the community in efforts to lower peak electricity consumption this winter.  
The Beat the Peak campaign was created in partnership with Yukon Energy, ATCO Electric Yukon, Government of Yukon, City of Whitehorse, the Yukon Conservation Society and YukonU's NSERC Industrial Research Chair in Northern Energy Innovation, Dr. Michael Ross. Inderjeet was hired as a student research assistant for this project with funding from YukonU's Scholarly Activity Grant. 
Written by student communications assistant, Naomi Dedon.