YukonU welcomes Erin McMichael as Registrar and AVP Student Life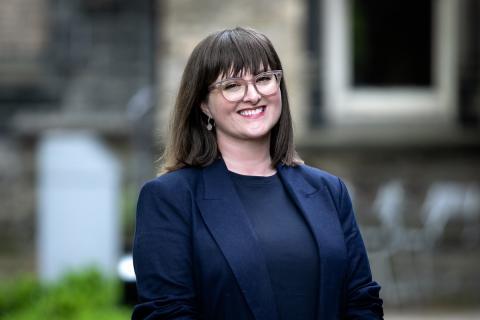 July 17, 2023
Yukon University welcomes Erin McMichael to the role of Registrar and Associate Vice President, Student Life.

McMichael joins YukonU from the University of Toronto's Faculty of Arts & Science where she has held the role of Associate Faculty Registrar and Director, Student Affairs since 2016. 
"I am deeply inspired by Yukon University's purpose, as defined within the Yukon University Act, as well as the values that underpin the 2022-27 Strategic Plan.   I look forward to working alongside students, staff and the senior administration to ensure that student services and co-curricular programming will continue to foster respectful relationships, promote student retention and, in turn, contribute to the personal, professional and economic wellbeing of all Yukoners." 
"We are pleased to welcome Erin McMichael to Yukon University. Erin brings valuable experience from a career focused on removing barriers to education for students. Her lived experience of the importance of support for First in the Family (first generation) post-secondary students brings an important perspective to the Office of the Registrar at YukonU," said Dr. Lesley Brown, president and vice-chancellor, Yukon University. 
McMichael's role at the U of T spanned core registrar functions (Exams, Transfer Credit, Awards) for almost 28,000 undergraduate students, alongside both current and prospective student advising. Her previous portfolio also included the Student Success unit which provides peer mentorship programming in tandem with academic skill building and community-building co-curricular supports. As part of her role, Erin was responsible for the launch of the Sidney Smith Commons, a student-led study hub that incorporates student well-being and sustainability into programming, daily operations and space design. 
In her career, McMichael has held several positions of increasing responsibility at University of Toronto and York University including Registrar and course Instructor at the Transitional Year Programme, Registrar of Emmanuel College, Assistant Registrar, Awards & Academic Advising at St. Michael's College, Financial Aid Officer at Woodsworth College and Academic Integrity Officer at U of T's Faculty of Arts & Science.  
Erin graduated With Distinction from the University of Toronto, holding an Honours Bachelor of Arts with a double major in Social Anthropology and the Study of Religion. She also holds a Master of Fine Arts from Toronto Metropolitan University's Faculty of Communication and Design and, is an online Master of Social Work student at Wilfred Laurier University. Erin began her postsecondary education as a mature student in the U of T's Academic Bridging program, an Access program for students who lack the prerequisites required for direct admission.  
As Registrar and AVP Student Life, McMichael will oversee the Office of the Registrar and Student Success divisions at Yukon University.  
For more information, please contact