BECOMING, the new YukonU Strategic

Plan

, our

FIRST as a university

,

was crafted

from the input of over 600 Yukoners, including many students, faculty and staff.

 

 
We are in an exciting place of transformation--the place between what is, and what is yet to be. This plan will set our direction and guide our actions for the next five years. 
This is our road map to becoming Yukon University—to realizing the promise and potential of being Canada's first university North of 60.
Our vision
Yukon University will become a thriving learning and research community leading Canada's North.
Our mission
We provide inclusive, quality education experiences that equip learners to seize opportunities, make change and positively impact local and global communities.
Our commitments
Over the life of this plan, we will:
Build our identity and nurture our culture as a university
Take our place in advancing reconciliation
Continue to develop our northern expertise
Develop bold thinkers and confident change leaders
Be leaders for the common good
Our values
Our values and commitments are designed to put us on the path to become uniquely Yukon University.
Situated on the traditional territories of Yukon First Nations in 12 communities, we are guided by the indomitable spirit of the Yukon wilderness and millennia of resilience and resourcefulness. We prioritize the uniqueness and values of the North in all that we do. We draw strength from our northern environment, cultures, societies and economies. We approach with ingenuity the unique challenges of our growing territory, changing climate, and remote communities.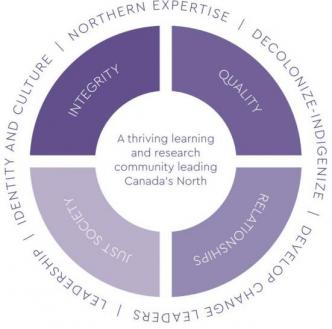 Integrity
We exist with commitment and responsibility to academic freedom, research integrity and scholarly excellence. Honesty, fairness, respect and ethical behaviour guide all we do. We encourage uncompromising questioning of the status quo, both in our institution and in our impact in the world. We promote bold and confident action in our quest for better solutions to the pressing problems of the North and the world.
Quality
Quality is imperative to bringing our mission to life. We promote high-quality programs and services by aligning our priorities with our resources and investing strategically. We invite external perspectives as required, to help us improve continuously in all facets of our operations. We strengthen a culture of excellence, including in the development and delivery of relevant, innovative programs and courses.
Just society
We embrace our influence as a driver of social and environmental change. Advancing a just society for all means we recognize that we are part of a collective and that we have responsibilities to and for each other. We are committed to Truth and Reconciliation and to support the self-determination of Yukon First Nations. We also see our role in advancing equity, diversity and inclusion in all our endeavours. That's why we empower students, staff and faculty to achieve their fullest potential and help to create a kinder, better future for all.
Relationships
Respectful relationships bind our common purpose. Above all else, we nurture a culture of deep listening, critical dialogue and respectful engagement. We care about the wellbeing and connectedness of our employees and students; through this profound sense of belonging, together we create the community that is Yukon University. We were built on a foundation of reciprocal relationships with Yukon First Nations, government, community and industry partners, and we will continue to invest in these relationships so that we can remain responsive to the education and training needs of the North.