Research funding to evaluate the impacts of COVID-19 on Old Crow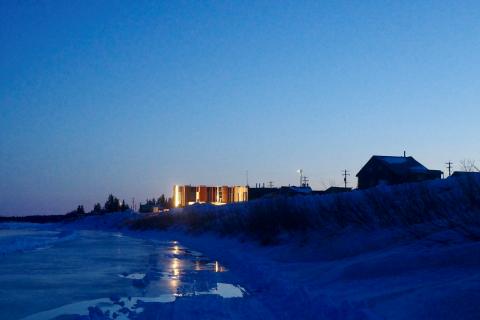 May 3, 2022
Yukon University has received $230,800 to research how COVID-19 has impacted the residents of Old Crow and to prepare for future emergencies. "In Their Words: COVID-19 Experiences of the Vuntut Gwitchin people of Old Crow" is a one-year project led by the Vuntut Gwitchin Government in partnership with Yukon University and funded by the Canadian Institutes for Health Research (CIHR). 
This research project addresses issues related to COVID-19 in Indigenous communities by revealing the health and wellness impacts as described by the people of Old Crow. The project will be co-created by the community and involve guided conversations and story gathering, in order to learn from this current pandemic and plan for future health crises and emergencies. 
"Yukon University is honored to be a part of this collaborative research project with the Vuntut Gwitchin Government, working together to build a more resilient North", said Dr. Lesley Brown, President & Vice-Chancellor, Yukon University. "Our research programs can now access all three federal funding agencies: NSERC, SSHRC, and CIHR. This is the first CIHR-funded project at Yukon University." 
Research participants will share their stories in guided interviews that will take place in the community of Old Crow in a COVID-safe manner. Interviews will begin this summer and participants will be compensated for their time. 
"We are looking forward to working with Yukon University on this important effort to record and learn from the experiences of our community members during the COVID-19 pandemic," said Vuntut Gwitchin Government Councilor Bonnee Bingham. "As residents of Yukon's only fly-in community, the insights gained from this project will be particularly important to us as we prepare for future health emergencies." 
This project will be co-led by a member of the Vuntut Gwitchin government and the YukonU Research Centre's health research chair, in collaboration with the Yukon Strategy for Patient-Oriented Research (SPOR) unit that is working to create partnerships between people with lived experience and research. The team will also consist of a Vuntut Gwitchin Knowledge Keeper, and a YukonU research advisor. Staff will be hired to support this project, including a community researcher that will reside in Old Crow. 
This research project was funded by the Indigenous COVID-19 Rapid Research Funding Opportunity offered through the Canadian Institutes for Health Research with the Government of Canada.  
Photo caption: The new Old Crow Community Hall taken by VGG/Gyde Shepherd 
Gyde Shepherd 
Communications Manager
Vuntut Gwichin Government 
613 804 4273 
gyde.shepherd@vgfn.net