YukonU suspends COVID-19 vaccine and mask requirements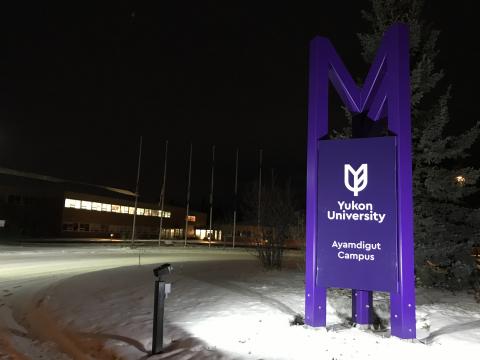 March 18, 2022
WHITEHORSE, YT—YukonU has announced that, as of today, it will be suspending the requirement that all students, employees and visitors be fully vaccinated at all campuses except for Campus Housing occupants.   
Also, as of today, masks will no longer be mandatory in all public spaces, classrooms and offices. 
Due to the close quarters of residential space, Campus Housing occupants must continue to adhere to the vaccine requirement until April 30. Also, occupants must continue to follow mask requirements and occupant capacity limits in eating areas and washrooms will be maintained until April 30, 2022. 
A letter sent yesterday afternoon to students and employees from YukonU President and Vice Chancellor Dr. Lesley Brown pointed to the evolution of the pandemic, the withdrawal of provincial vaccine mandates across Canada and the high vaccination rate in Yukon and within the YukonU community, as reasons for suspending the vaccination requirement.  
The letter also noted that while the Yukon Chief Medical of Health (CMOH) is shifting safety measures from mandatory measures to each of us using personal discretion, CMOH guidance remains that wearing masks, maintaining physical distance and vaccinations continue to be the best protections against COVID-19. 
The university will continue to deep clean high traffic areas daily, maintain protection screens at front-line desks and counters, and will provide free N95 masks and rapid tests while supplies last. 
Employees who are immuno-compromised or at greater risk from COVID, may reference the pilot Work From Home policy and speak with their supervisor about the option of working from home.  
Students who are immuno-compromised or at greater risk from COVID, are encouraged to speak with their instructor or chair to determine a safe, healthy path forward for their studies. 
YukonU will continue to monitor the ongoing dynamic pandemic landscape and act accordingly. We will conduct a review of the vaccine requirement by June 30, 2022. 
If the situation warrants and CMOH advises, we may consider reinstating the vaccine requirement to ensure the safety of students, employees and the public.
For more information, please contact
Related content