YukonU vaccine requirement delayed to April 30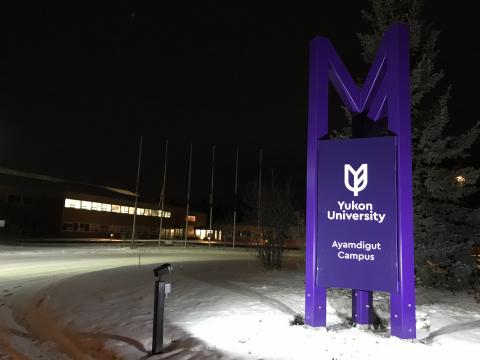 February 15, 2022
WHITEHORSE, YT—Yukon University announced today that the requirement for all students, employees, contractors and visitors attending a YukonU campus in-person must be fully vaccinated, due to come into effect February 18, is delayed to April 30.  
This means that anyone currently not in compliance with the directive may continue to access YukonU campuses until April 30.  
Until then, students who are immuno-compromised or at greater risk from COVID are encouraged to speak with their instructor or chair to determine a safe, healthy path forward. Similarly, employees who are immuno-compromised or at greater risk from COVID are encouraged to speak with their supervisor about working from home.  
In a letter sent to students and employees this morning, YukonU President and Vice Chancellor Dr. Lesley Brown stated that the vaccine requirement was originally introduced "... to support our ability to offer in-person classes, to build the University community, and to reduce the need for future COVID-19 specific restrictions—in essence, to support our return to a level of normality." 
"The high transmissibility of the omicron variant has challenged our ability to do this. While vaccinations remain the safest and most effective way to stop the spread of COVID-19 and the single most effective means of reducing the impact of the pandemic on the University's academic mission, we also now have more tools available to us." 
N95 masks, which are more effective at preventing the transmission of COVID-19, are now available free via the Ayamdigut Campus Store and community campuses. Also, free rapid testing kits are also available courtesy of the Council of Yukon First Nations (CYFN) which gifted 2000 packages of five tests to YukonU. 
The letter also stated that the process of preparing to implement the vaccine requirement has confirmed high rates of full vaccination among employees and students—99% of permanent employees and 88% of credit students. 
The University continues to expect everyone attending a campus in-person to follow the Safe6+1 guidelines and follow current Chief Medical Officer of Health guidelines to wear a mask at all times. 
As of Monday, February 28, the university will re-instate many in-person classes and services that were shifted online January 4 due to the high cases and transmissibility of the COVID-19 omicron variant in the Yukon. 
The letter ended by stating: 
"We will continue to monitor the ongoing dynamic pandemic landscape and act accordingly. We will continue to assess the necessity of implementing the vaccine requirement. In the meantime, please continue to act with your health and safety, and those of your family, colleagues and students top of mind." 
Check yukonu.ca/covid-19 for the latest Yukon University COVID-19 response information. 
For more information, please contact
Related content