Two-Eyed Seeing Research Program established in Yukon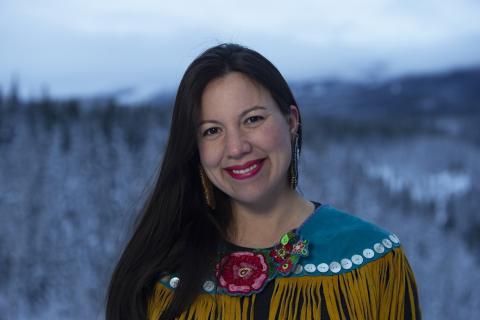 June 22, 2021
WHITEHORSE, YT— A Two-Eyed Seeing Research Program has been established in collaboration between the Government of Yukon, University of Alberta North, and Yukon University. This program honours different ways of knowing and doing, and aims to uphold Indigenous values and practices in research, training, and knowledge sharing throughout Yukon as it braids Indigenous and western knowledge throughout the program.
The Government of Yukon is generously contributing over $700,000 to this Yukon-focused Two-Eyed Seeing Research Program which includes establishing a Research Chair in Indigenous Knowledge at Yukon University, and a series of research activities conducted jointly between YukonU and UAlberta North. This four-year commitment builds on previous collaboration between the three partners.
Daqualama Jocelyn Joe-Strack has been named the Research Chair in Indigenous Knowledge and is a citizen of the Champagne and Aishihik First Nations. The Chair will develop interdisciplinary research activity through the YukonU Research Centre, with an immediate focus on the revitalization of storytelling in Yukon and overseeing the Yukon First Nations Climate Action Fellowship.
Joe-Strack holds a Master in Northern Resources and Environmental Studies from the University of Northern British Columbia and a Bachelor of Science in microbiology and biochemistry from the University of Victoria. She is committed to taking a whole person approach to research, decision-making and social transformation.
"Reconciliation and Indigenization are paramount values at Yukon University, and we are thrilled that Jocelyn has joined us to lead a research program rooted in Indigenous Knowledge and ways of knowing and doing," said Dr. Bronwyn Hancock, Associate Vice-President, Research, Yukon University. "Jocelyn is YukonU's first Indigenous Research Chair, and I believe the work she will do through her research program will serve our territory, and especially our youth, in developing new ways of doing research in Canada's North during a time of reconciliation."
The Government of Yukon is investing over $700,000 so that the two institutions can jointly run the program; $335,000 will go to University of Alberta North and $370,789 to Yukon University over four years. In addition to creating the research capacity described above, this program will provide students, established researchers and land practitioners with Indigenous advisory support and increase interdisciplinary research collaboration and student opportunities at each academic institution.
"Our partnership with Yukon University and University of Alberta North supports a deepening of collaboration, builds local capacity to lead research and creates economic and social benefits for Yukoners," said Premier Sandy Silver. "Through our investment in people, projects and outreach, our government, together with these two academic institutions, is creating tremendous opportunities to hold up Indigenous Knowledge as critical to northern research. The potential that exists here to create opportunities for young people to use their voices is tremendous."
UAlberta North will support student research internships that involve partner collaboration and advance a two-eyed seeing approach, with additional funding available to enhance research, monitoring, training, and knowledge mobilization in Yukon. The program will also support the Haines Junction Mountain Festival in its continued efforts to make scientific and Indigenous knowledge programming accessible to all Yukoners.
"Relationships in research and education grounded in respect, reciprocity, and reconciliation are central to our mandate," said Dr. Fiona Schmiegelow, Director, UAlberta North. "We are committed to focusing on issues of priority to northern partners, amplifying the voices of Indigenous Knowledge-holders, and supporting northern students. We are excited and honoured to work with the Government of Yukon and Yukon University on this innovative program."
The Two-Eyed Seeing Research Program has begun supporting work throughout the territory through the development of curriculum that applies a two-eyed seeing approach to land stewardship and sustainability. The Research Chair in Indigenous Knowledge has also begun her research into the revitalization of storytelling with an upcoming appearance at the 2021 Adaka Cultural Festival scheduled for late August.
(photo credit: Mike Rudyk)
For more information, please contact