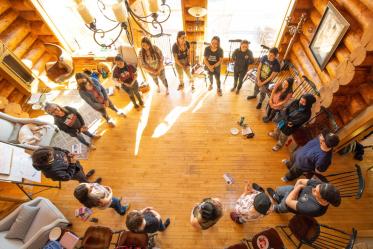 The Yukon First Nations Climate Action Fellowship is a 20-month program that aims to uphold youth as they reconnect with their culture and identity as they explore climate action. Research Chair in Indigenous Knowledge, Jocelyn Joe-Strack is leading the fellows as they journey together through online, in-person and on-the-land programming. The Fellowship originated from the 2020 Yukon First Nations Climate Action Gathering where leadership signed the Yukon First Nations Climate Emergency Declaration. Attending Youth also worked together to develop their own Youth Climate Declaration 'Our Principles and Our Role in the Circle of Life'. Leadership delegated the youth to develop the 'Yukon First Nation Climate Vision and Action Plan'. This is the task for our Fellows.
Together we are working hard to heal, reconnect and walk as whole people; our spiritual, emotional, physical and intellectual selves. Through this journey they will seek their identity and truth as they work with each other, First Nations, and others, to craft their vision and begin their action.
The Yukon First Nation Climate Action Fellowship is developed by the Council of Yukon First Nations, Assembly of First Nations – Yukon Region and Youth Climate Lab.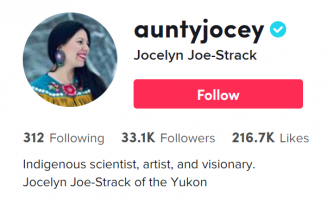 Media: Climate fellowship advocates for First Nation youth in Yukon
Follow @AuntyJocey on TikTok!