Audrey McLaughlin, Dave Joe receive first honorary YukonU degrees at Chancellor installation ceremony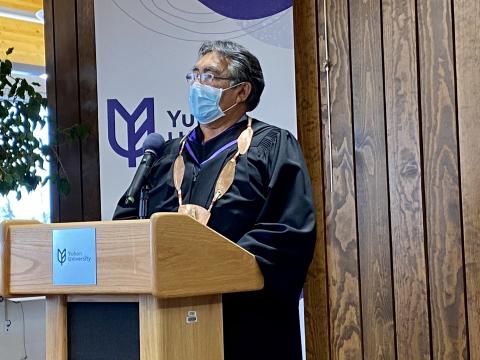 November 17, 2020
WHITEHORSE, YT—Audrey McLaughlin and Daka Dave Joe received the first two honorary Yukon University degrees today from Chancellor Allen at his installation ceremony.
At a socially distanced event, held in the Innovation Commons at Ayamdigut Campus, a small group of 20 people gathered in-person, to celebrate this occasion while many more joined via Zoom.
Yukon University Board of Governors chair presided as the University bid farewell to Chancellor Piers McDonald and the chain of office was passed onto Jamena James Allen.
Then, as his first official duty, Chancellor Allen conferred the honorary Yukon University Bachelor of Arts to McLaughlin and Joe.
Audrey McLaughlin served
Yukoners as member of parliament for 10 years from 1987. She led the federal NDP from 1989 to 1995, becoming the first female leader of a federal political party and the first to lead one from the North. Since then, she has impacted communities across the globe through chairing or co-chairing international delegations to oversee the integrity of elections held in countries such as Côte d'Ivoire, Sierra Leone, Niger, Iraq, Afghanistan, Bangladesh, and Lebanon, and through working on peace and social justice issues in Bahrain, Yemen, and Morocco and Kosovo.
Daka Dave Joe is a citizen of Champagne and Aishihik First Nations and the son of Harry Joe and Jessie Hume. Since the age of 14, Joe has been immersed in the push to recognize Aboriginal rights and title in Yukon and beyond. In 1973, he was chief negotiator in the contingent of Yukon First Nations leaders that travelled to Ottawa to hand deliver their plan for self-government, Together Today For Our Children Tomorrow, to then-prime minister Pierre Trudeau.
Joe studied law at the University of British Columbia. When he was called to the bar in 1977, he was the first lawyer of Yukon First Nations ancestry. For the next two decades, Joe focused on negotiating the details of the Umbrella Final Agreement, the historic framework document for negotiating individual Yukon First Nation Final and Self-Governing Agreements that was signed in 1993. He then went on to support several Yukon First Nations governments in negotiating their final land claims agreements.
The Chancellor is the ceremonial head of the university. Appointed by the board of governors, they act as a bridge between the institution, the students, and the broader community. The Chancellor is responsible for conferring credentials on each graduating student. The position is voluntary for a term of two years. Under the Yukon University Act the chancellor is now a voting member of the board of governors and university senate.
Following in the footsteps of Pierre Berton, T'aaḵú Tláa Pearl Keenan, Ken MacKinnon, Anyalahash Sam Johnston, Rolf Hougen, Geraldine Van Bibber, and Piers McDonald, Jamena James Allen is the eighth well-respected Yukoner to serve in this honorary capacity since 1989.
Jamena and Daka are the Dän k'e (Southern Tutchone) names of James Allen and Dave Joe respectively. T'aaḵú Tláa and Anyalahash are the Tlingit names of Pearl Keenan and Sam Johnston respectively.