Jamena James Allen named chancellor of Yukon University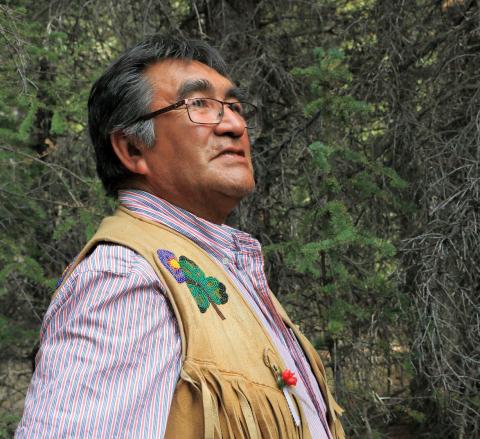 October 6, 2020
WHITEHORSE, YT—The Yukon University board of governors is pleased to announce Jamena James Allen as the new chancellor of Yukon University. Allen takes over from Piers McDonald, who has held the position since 2016. 
Allen is a former Dän nätthe (chief), Dän nätthe dätth'i (councillor) and an Agunda (Wolf) clan citizen of the Shadhäla yè Äshèyi Kwädän (Champagne and Aishihik First Nations). He was born in Aishihik to Bessie Roberts and Jack Allen.  
"I am humbled and honoured to take on the role of chancellor of Yukon University. I have long been an advocate for building resources from within to realize the promise of self-government, and indeed Yukon itself. The establishment of Yukon University is a further step towards self-sufficiency for all Yukoners. I look forward to engaging with and serving our students," said Allen. 
"James Allen brings a wealth of experience to this role from his time as Champagne and Aishihik First Nations chief, and as an advocate for education, language and healing. He has dedicated his life to improving the lives of others and Yukon University will benefit from his guidance," said David Morrison, chair of the YukonU Board of Governors. 
Allen will be installed as chancellor at a ceremony anticipated to occur in November. As his first official duty he will confer the first Yukon University honorary degrees on two distinguished Yukoners. 
Allen worked as a tradesperson before entering First Nations politics in the 1980s and becoming a land claims negotiator for Champagne and Aishihik First Nations. Elected Dän nätthe (chief) for two separate, four-year terms in 2002 and 2010, among his achievements Allen partnered with Yukon College to create the Executive Development program which later became the Indigenous Governance degree program, and oversaw the final construction and opening of the Da Kų Culture Centre in Haines Junction, Yukon. 
Allen is a staunch champion for Dän k'e (Southern Tutchone) and has contributed to the revival of this language. For many years, he has operated an annual healing camp for men tackling addictions. Since retiring from politics, alongside his wife, Barbera, Allen operates Shakat Tun Adventures on the Allen family trapline on Kluane Lake—a tourism and guiding business that shares stories and traditional activities with visitors.  
The Chancellor is the ceremonial head of the University. Appointed by the board of governors, they act as a bridge between the institution, the students, and the broader community. The Chancellor is responsible for conferring credentials on each graduating student. The position is voluntary for a term of two years. 
Under the Yukon University Act the chancellor is now a voting member of the board of governors and university senate.  
Following in the footsteps of Pierre Berton, T'aaḵú Tláa Pearl Keenan, Ken MacKinnon, Anyalahash Sam Johnston, Rolf Hougen, Geraldine Van Bibber, and Piers McDonald, Jamena James Allen is the eighth well-respected Yukoner to serve in this honorary capacity since 1989. 
Jamena is Allen's Dän k'e (Southern Tutchone) name. T'aaḵú Tláa and Anyalahash are the Tlingit names of Pearl Keenan and Sam Johnston respectively.
Photo credit: Leslie Leong
For more information, please contact
Related content