United Way Yukon provides grocery support to students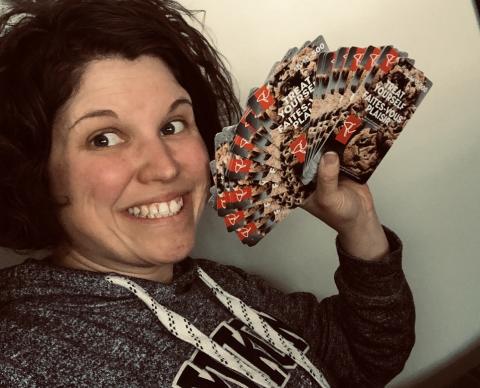 April 17, 2020
WHITEHORSE, YT—Thanks to United Way Yukon, 48 Yukon College students have received $25 grocery gift cards to assist them during the COVID-19 pandemic response. 
Cards went to students identified by faculty or through contact with the student support case manager as needing additional support at this time.  
United Way Yukon (UWY) donated 50 gift cards as part of its COVID Community Response campaign. Working through community partners, the cards empower individuals affected by COVID restrictions to make choices that best meet their immediate needs, whether it's food, prescription drugs, cleaning supplies or clothes. 
"COVID-19 has affected everyone and we all need help to stay in good health. I am very grateful to the United Way. I got to buy fresh veggies this week because of their generosity — thank you," said a student who wished to remain anonymous. 
UWY reached out to Yukon College at the end of March, to offer assistance to students. They then worked closely with Case Manager Megan Skarnulis and Yukon University Foundation Development Officer Jay Dobson on how best to help students in need. Two gift cards are still available. 
"Like many of us, students are dealing with sudden changes that have significantly impacted their work, home and school lives. These gift cards provide a little kindness to those most in need. We are grateful to United Way Yukon for reaching out and supporting students," said Skarnulis. 
"Yukon College faculty and staff have supported United Way Yukon for many years through payroll donations," said UWY Executive Director Jamie Boyd. "These small amounts taken off each paycheque make a massive difference to the programs and organizations we support, so naturally we wanted to do something to support local post-secondary students during this unprecedented situation."  
During the pandemic response, the full suite of College support services remain available to students via phone, email or videoconferencing. Those experiencing life or academic challenges are encouraged to reach out. More information is available on the COVID-19 response webpage under Services for Students and Library.  
Between March 16 and April 16, Yukon College's Library Services, Student Services Centre and Academic Support Centre have assisted 380 students in navigating academic or life challenges brought about by the COVID-19 response. 
Individuals, groups or corporations wishing to directly support students are encouraged to contact Jay Dobson at jdobson@yukoncollege.yk.ca. 
Yukon College will officially become Yukon University on May 19. 
For more information, please contact: