Studying metal concentrations in Whitehorse groundwater
Tuesday, July 25, 2023 - 3:36 pm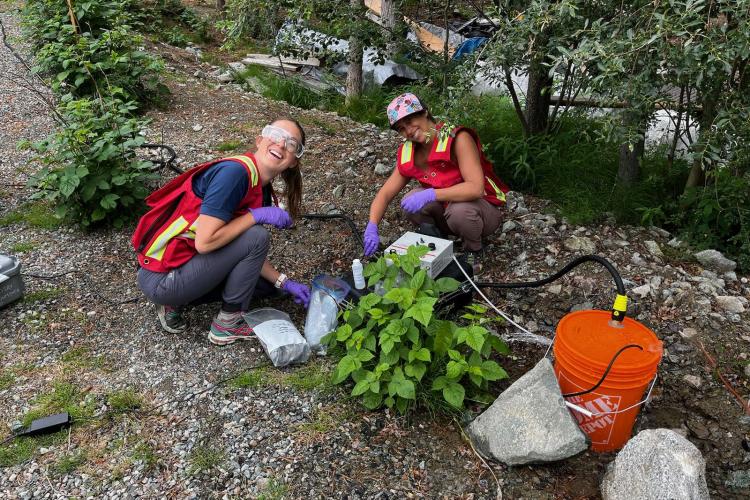 Groundwater is the principal drinking water source for Greater Whitehorse Area (GWA) residents, which is experiencing rapid population growth and an increasing demand for groundwater. 
Earth Sciences faculty members Mary Samolczyk and Dr. Joel Cubley,  and two student research assistants, are studying the metal concentrations of groundwater in Whitehorse with a focus on uranium, manganese, and arsenic.  Sheilany Bouchard, an Earth Sciences student, and Sarah Newton, a Northern Environmental and Conservation Sciences student, will help Mary and Joel sample wells in residential areas across town this summer.  
Metal(oid)s can be derived from both anthropogenic and geologic sources; however, it is unclear what influences the distribution and abundance of dissolved metals in some GWA groundwater. To improve residents' water security, it is therefore necessary to characterize groundwater chemistry and identify the sources and drivers of metal concentrations in groundwater. 
They will perform in-house analyses on these samples before sending them to the University of Saskatchewan for further analysis. There will be continuous involvement of YukonU students over this three-year project, as well as an anticipated graduate student hire. Dr. Cubley will focus on the impact that the mineralized Whitehorse Copper Belt has on groundwater chemistry, including the residual impacts of historic mine infrastructure (e.g. tailings and waste rock dumps).  
This project brings together collaborators from Yukon University, the University of Saskatchewan, Yukon Government, the Ta'an Kwäch'än Council, and the City of Whitehorse. The National Research Council Canada's Arctic and Northern Challenge program is the main funder for this project.