An invasion of Steller's Jay in southern Yukon 
Tuesday, March 1, 2022 - 9:23 am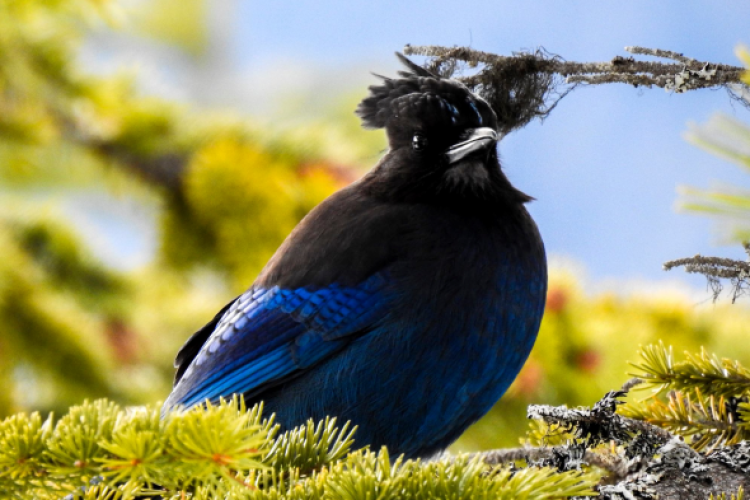 You might find Steller's Jays to be cute but watch out! Southern Yukon is seeing an invasion of these birds. A drastic increase in population could throw the local ecosystem off balance, as these birds are nest predators and food competitors. Anthony Francis, a Northern Environmental and Conservation Sciences (ENCS) student, mapped out the birds' geographical locations as part of a directed study this fall. 
Anthony gathered data from citizen science platforms, such as eBird and iNaturalist, and referred to reports from the Yukon Bird Club. Steller's Jays are native to western North America; they don't usually stray north of the BC/Yukon border. However, in winter and spring of 2020/2021 more sightings were reported in the Yukon than ever before! This may be due to people simply reporting the same bird as the pandemic has prompted more Yukoners to get outside during the day. However, Anthony felt this anomaly required investigation. 
After collecting and compiling all the data, he made a map of the bird sightings in the Yukon. The added presence of Steller's Jays means an increase in competition for resources with other species. They also could become another predator of bird nests. Anthony speculates that the gradual increase of birds moving into northern areas could also be due to climate change. He completed this directed study as a requirement of the ENCS degree program offered through UofA at YukonU. For more information on this project, please contact Dr. Katie Aitken, Instructor/Coordinator, Northern Environmental and Conservation Sciences program. 
Written by student communications assistant, Naomi Dedon.
Photo credit: David Bradford