Climate change, wildfire, and small mammals
Wednesday, March 16, 2022 - 1:01 pm
Master's student, Gabriel Rivest is studying the effects of wildfires in the Yukon and involving YukonU students along the way. He is examining the impacts of fire on small mammal populations and vegetation to help predict future outcomes, as climate change continues to influence the size and severity of wildfires.  
 Wildfires are important to the boreal forest ecosystem and occur naturally, however, larger, more severe fires can potentially alter the natural cycle. In 2020, Gabe conducted a study in the Pigue Creek area between Stewart Crossing and Dawson City, that experienced a severe fire the previous year.  As small mammals are at the base of the food chain, any decline in their population could have a domino effect on the ecosystem. Gabe set up a catch and release system that mainly caught red-backed voles (see photo below). This allowed him to establish density estimates of small mammals in the area. As wood harvest often occurs in burned areas, his data could inform management of where and how to harvest. He also collected data on canopy cover and plants in the area. 
Gabe is a field course coordinator for the Northern Environmental and Conservation Sciences (ENCS) program at YukonU and often involves his Northern Exposures class in his live study on site. Gabe will share his results upon completion of his Master's, by year's end. He received the Garfield Weston Grant from the Wildlife Conservation Society (WCS) Canada for his work on this project. Congratulations Gabe!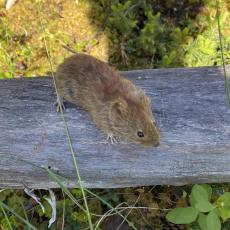 The Pigue Creek area is on the Traditional Territory of the Tr'ondëk Hwëch'in and Na-cho Nyäk Dun First Nations. Gabe's Master's degree is through the University of Alberta, hosted at Yukon University.  
Vole photo by Gabriel Rivest and portrait of Gabriel by Justin Kennedy.
Written by student communications assistant, Naomi Dedon.