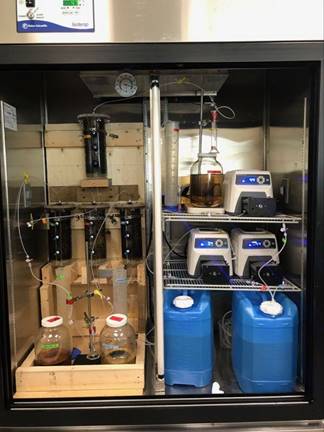 Closure planning of the heap leach facility (HLF) at the Coffee Gold project is currently under development. In the post closure scenario, HLF drainage will consist of meteoric water that infiltrates through the geosynthetic clay liner or unlined slopes of the facility. The drainage chemistry from the HLF following rinsing is difficult to predict at this stage of the project in the absence of actual heap solutions. The progressive reclamation and closure of the HLF will include measures designed to improve heap seepage water quality.
Specifically, the addition of microbes, carbon and nutrients to the heap during progressive rinsing and reclamation will foster reducing conditions within the heap pore waters allowing for in situ denitrification and ultimately reductive precipitation of metals. As such, the objective of in situ treatment is to treat constituents within the heap, as well as decreasing metals concentration to sufficiently low levels to either directly discharge, or at least provide water that is of sufficiently good quality to only require polishing in a passive treatment system. For the purposes of estimating post closure seepage water quality from the HLF, the use of additional polishing through passive treatment will be assumed in the water quality model.
This project is in collaboration with Lorax environmental Services Ltd.  
Project Overview
YukonU in collaboration with Lorax Environmental Services Ltd. is conducting a laboratory column study to assess the efficiency of 3 columns design to remove nitrate, uranium and heavy metals from synthetic mine water.
The 3 column designs assess different ratios of reactive materials (such as wood chips, gravel and Zero valent Iron) in columns placed in series or not.
The experiment is being conducted in a laboratory fridge, at 5°C, to mimic the climate condition in Yukon.
Project team and funders
Guillaume Nielsen, IRC Northern Mine Remediation
Eunjee Cho, Research, Assistant Northern Mine Remediation
Pamela Godin Research, Assistant Northern Mine Remediation
Chelsey Zurkan, Research Assistant Northern Mine Remediation
Lorax Environmental Service LTD
Funders:
NSERC
Yukon Mine Research Consortium (YMRC): BMC minerals LTD, Selwyn Chihong LTD , Newmont Coffee, Casino Mining Corp, Alexco Resource Corp, Victoria Gold Corp., Minto Explorations