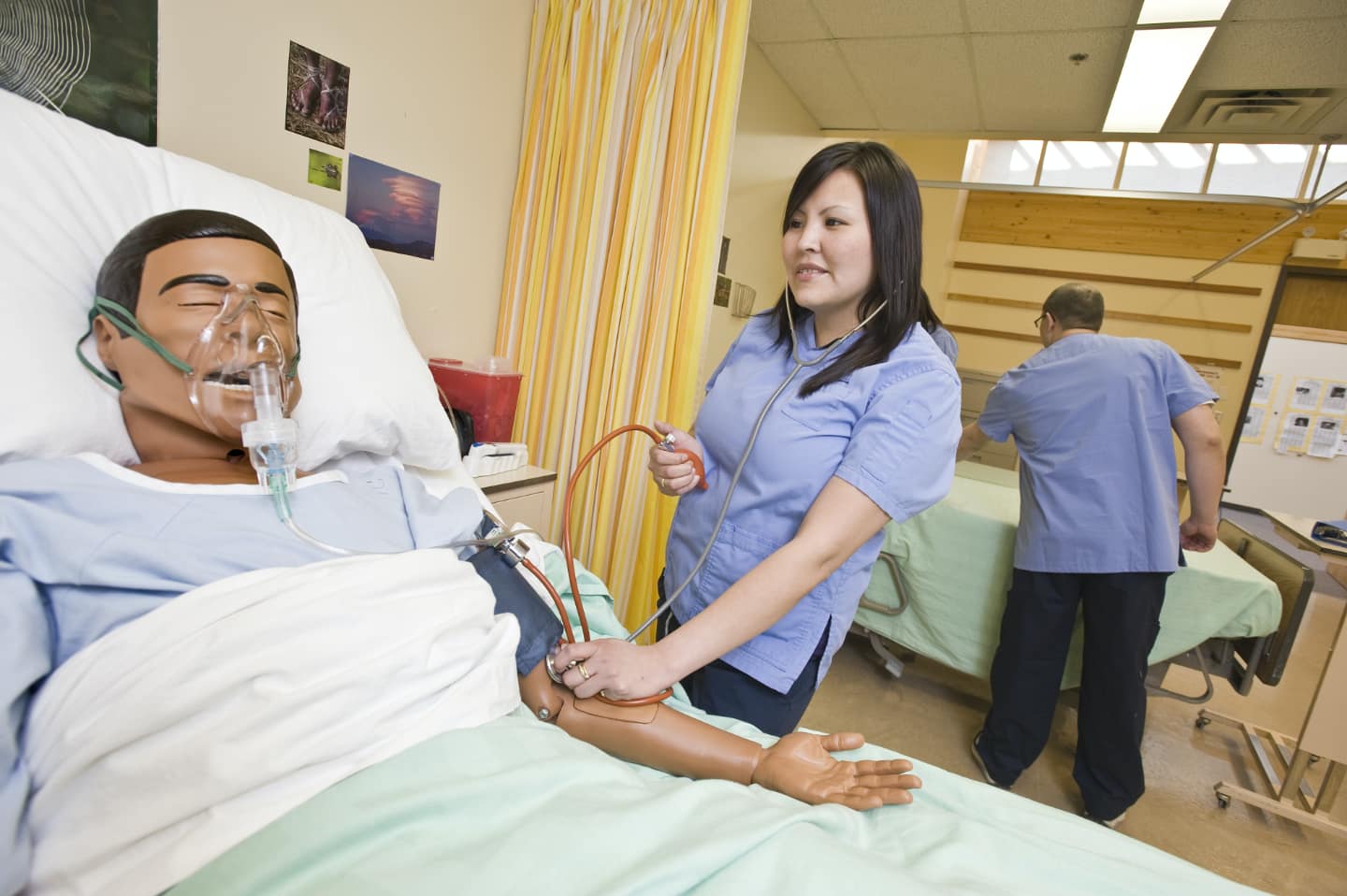 Prepare for a dynamic and ever-changing workplace.
Yukon University's Practical Nurse program places cutting-edge health care technologies and healing environments right at your finger tips preparing you for a highly respected and challenging health care career.
COVID-Related Program Delivery Information: PLEASE READ
While the pandemic persists, courses in the Practical Nurse Program will be delivered  through a mix of methods.  Most lab courses will have in-person lab sessions when safe with theoretical content being delivered online with some mix of scheduled Zoom sessions and other online activities in Moodle, YukonU's online learning platform.  Courses without labs may be taught entirely through Zoom videoconferences and Moodle activities. Clinical courses with COVID-19 accommodation will proceed unless prevented by a change in public health recommendations occurs.
Whether classes are in person or virtual, attendance is essential and expected for all scheduled classes.
Online courses will require that you have access to your own computer and Internet connection. 
More information about the online platforms that will be used for fall instruction can be found at www.yukonu.ca/student-life/technical-resources
Students new to online learning are encouraged to take the brief online introductory workshop Distance Learning Success.  Contact the Academic Support Centre for more information:
www.yukonu.ca/student-life/learning-matters/academic-support-centre
Program description
If you have a desire to work in dynamic environments providing high quality nursing care in hospitals, long term care facilities, community and other health-care services, then consider a career as a practical nurse.
Practical nurses perform assessments and provide prescribed treatments, assist clients with activities of daily living and create safe comfortable environments to optimize health outcomes.
Practical nurses collaborate with other members of the health care team to help clients meet their physical, emotional and psychological needs.
---
Duration
Five terms plus one preceptorship.
---
General outcomes
Successful graduates receive a Bow Valley College/Yukon University diploma and will be prepared to write the Canadian Practical Nurse Registration Examination (CPNRE) and to apply for licensure.
Admission requirements
a minimum of 60% in English 12 and Biology 12 (or equivalent courses, AND
a pass in Math 11 (Foundations or Pre-calculus)
ANAT 1101 periodically offered online through Bow Valley College may be used in place of Biology 12 admission requirement.
Applicants will be accepted through a competitive process based on ranking of the average of English and Biology grades.
For each intake, 6 seats will be reserved for qualified Yukon First Nation students. Please contact a program advisor for any additional information.
Due to high demand for seats in the practical nurse program, we are not able to accept international applicants at this time.
Other requirements
CPR BLS (delivered as part of program)
current immunization
acceptable current criminal records check including vulnerable sectors
WHMIS 2015
Yukon First Nations Core Competency
Yukon University recognizes that a greater understanding and awareness of Yukon First Nations history, culture and journey towards self-determination will help to build positive relationships among all Yukon citizens. As a result, you will be required to achieve core competency in knowledge of Yukon First Nations.
Students in the practical nurse program will encounter many opportunities to acquire knowledge about Yukon First Nations, beginning with completion of YFN 101 at the start of the program.
For details, visit Yukon First Nations Core Competency
Transferability
Graduates of this program may be accepted into Athabasca University's Post LPN Bachelor of Nursing program, and may be granted transfer credit by other post-secondary institutions.
Career opportunities
Graduates of the program are employed in long term care, hospital and community/home care.
Graduates have acquired the competencies required to provide high-quality care in all these settings.
Money matters
Fees
Tuition for credit programs is calculated per course credit. See money matters for more information.
Some programs and courses have additional fees -  see Ancillary Fees.
---
Student financial awards
Education is an investment in your future, your family and your community. Yukon University is pleased to support that investment by offering some of the most competitive tuition rates in the country, as well as several student financial awards to help offset your educational and living costs.
---
Financial assistance
There are government programs, scholarships, bursaries, awards and First Nation funding available to financially support you throughout your academic career.
See money matters for more information, or talk to our financial advising staff in the Student Services Centre. Email or call 867 668 5209 to make an appointment.
Practical Nurse Pre and Co-Requisite Table: All Courses
Practical Nurse Pre and Co-Requisite Summary Sheet outlines information on all courses offered for the two-year diploma program.