Award-winning author Ivan Coyote to receive YukonU's first honorary doctorate degree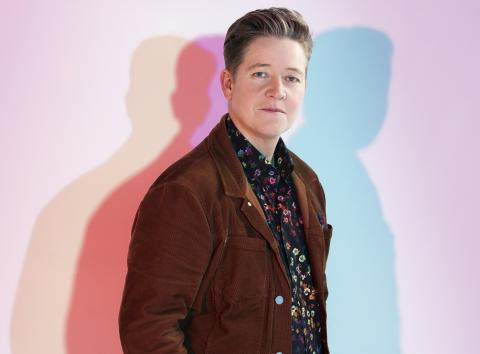 May 16, 2023
WHITEHORSE, YT—The stories of Ivan Coyote have brought joy to readers around the world. Their performances across three decades of live events from Anchorage to Australia have enthralled audiences, leaving them helpless with laughter and soaked with tears. Showing up to countless classrooms, libraries and gymnasiums, Coyote has shared a message of safety and compassion with students and teachers across North America, inspiring and strengthening anyone who has ever felt they didn't fit in to take up space and live their truth.  
In recognition for their writing, storytelling, performances and presence in schools, Yukon University will present Coyote with an honorary doctorate degree at the 2023 Convocation. Coyote will also deliver the key address to the graduates, their families, faculty, staff and dignitaries in attendance.  
"Ivan Coyote has saved lives. In showing up and speaking with thousands of youth, and those entrusted with their care, about the complexities and nuances of gender identity, the cruelties of refusing to see one another as we are and the kindness and compassion of affording one another the space and dignity of our personal experiences, Coyote has made a difference to millions of people," said Dr. Lesley Brown, president and vice-chancellor, Yukon University.  
"An honorary doctorate is the highest award that a university can bestow. It is a celebration of an individual, and it is a celebration of our status as a university. We are proud to recognize Ivan Coyote with the very first honorary doctorate degree award from Yukon University," added Dr. Brown. 
Coyote will be presented with Yukon University's first honorary doctorate degree—a Doctor of Arts, honoris causa—at the annual Convocation ceremony on Saturday, June 3, at 11:00 a.m. on Ayamdigut Campus.
An award-winning author, gifted spoken word performer, master storyteller and proud third-generation Yukoner, Ivan Coyote was born and raised in a large Irish Catholic family in Whitehorse. They learned the craft of storytelling on long, northern winter nights gathered around their grandmother's kitchen table. 
Coyote's work tackles the complex and intensely personal subjects of family, class, gender identity, queer liberation and social justice. With deft observations about the beauty of what makes each of us human their work invites us to consider what it means to belong. In bringing forth the humour, hilarity and wisdom of life and love, they encourage all of us to be kinder. 
For 20 years, Coyote has visited schools across North America telling stories to encourage talking and action to foster safety and social justice in our hallways, gymnasiums and classrooms for students, teachers and all staff. They are also often asked to speak to labour activists, social justice advocates, university students and health care providers.  
In doing so, they have created space for love and understanding, hope and acceptance, belonging and equity. Their presence has instilled pride and strength of existence in countless LGBTQ2S+ people, particularly youth and young adults. 
In 2017, they received an honorary Doctor of Laws from Simon Fraser University (SFU). They have been hosted as Writer-in-Residence at SFU, the University of Northern British Columbia and the University of Winnipeg. Most recently, they held the Alice Munroe Chair in Creativity at Western University.  
They have written 13 books, created four short films and released three albums. Their short story collection Rebent Sinner was a finalist for the 2020 Governors General's Award for English language non-fiction. Ivan's most recent book, Care Of, released in June 2021 by McClelland and Stewart, was shortlisted for a 2022 Lambda Literary Award and a finalist for the 2021 Governor General's award for English language non-fiction.