Yukon University announces new science building design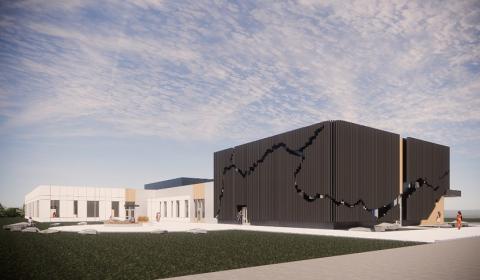 December 8, 2022
WHITEHORSE, YT— Yukon University has chosen a design and bold energy model for its new science building, the construction of which is named the Polaris Project.
YukonU has launched a two-phase procurement process for construction of this newest academic building. The first phase is a Request For Qualification which will pre-qualify a list of construction contractor companies. In phase two these companies will be invited to bid on construction—anticipated to commence in spring 2023 for completion in 2025. 
The core of the design is the notion of a river, a nod to the Yukon River, which is tightly woven into the social and economic fabric of the territory.  
The facility will contain four classrooms and a lecture hall, research labs, a ceremony room and a large social space for events and gatherings. 
The building design will maximize space for student study and will leverage optimal sharing of lab and class space, led by function rather than discipline and weave reconciliation and decolonization into the design and architecture, respecting First Nations culture, environment, and ancestors. 
Stantec Architecture, a global leader in sustainable design and engineering, was awarded the $2.3 million contract to design the university's science building. Design decisions were informed by engagement sessions held by Stantec across the summer with First Nations partners, students, staff and senior leadership.  
Polaris, the north star, is the brightest star in the northern circumpolar constellation of Ursa Minor and a navigational way finder in the night sky. YukonU's first new building as a university, and the people that will bring it to life through teaching, learning and the creation of new knowledge, will serve as beacons for our society for generations to come. 
Consistent with the commitments in Becoming, Yukon University's 2022-27 Strategic Plan, the Polaris Project is registered for Zero-Carbon Standard Certification. This certification will signify annual energy cost savings between $20,000 to $33,000 per year and annual emission savings between 8,900-14,100 kgCO2 per year, or 445,000-705,000 kgCO2 over a 50-year period. 
"Through our strategic plan, an ambitious and bold direction was set for Yukon University, with reconciliation, collaboration, and climate action as critical commitments for the next five years. I am pleased to see these commitments coming to life in the Polaris Project," said Dr. Lesley Brown, YukonU president and vice-chancellor.  
The science building will be housed at Ayamdigut campus on the traditional territory of the Kwanlin Dün First Nation and the Ta'an Kwäch'än Council. It will be located beside the existing main campus building within the current footprint of buildings that make up Yukon Place. 
Planning for the new building was delayed by the COVID-19 pandemic. The building cost is currently budgeted at $41M. Federal funding of $26 million for construction was announced in 2019 and the university is collaborating with partners to access additional funding.  
To learn more about the Polaris Project, visit yukonu.ca/polaris. 
For more information, please contact