Business students encourage Yukoners to find their inner guru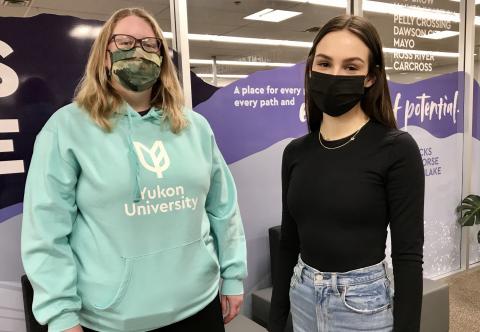 March 18, 2022
WHITEHORSE, YT—Fourth year Bachelor of Business Administration (BBA) students are channeling their work, life and university experience into a free, online workshop series—Find your Inner Guru.
Across two weeks starting Tuesday, March 22, Kendall Pigeau, James Punongbayan, Christy Huey and Tasha-Lee Schwantz will inspire compassionate leadership skills in business, people, budding entrepreneurs, fellow students and the public.
The interactive workshops will cover discovering your own superhero, building influence and growing positive impact, giving and receiving constructive feedback and using inclusive language in the workplace.
"The business program has been amazing at drawing out and growing our individual leadership skills. We created the workshop series as part of our final capstone course to both give back through sharing our knowledge and set the bar for what students can accomplish with the program," said Tasha-Lee Schwantz.
These students are setting the bar by being some of the first-ever to graduate from this four-year, made-in-Yukon degree program that launched in 2019.
Schwantz's workshop is Words Matter: Using Inclusive Language in the Workplace. She was inspired by BBA communications courses to reflect on how language shapes workplace culture and determines how inclusive it really is.
Christy Huey's workshop focuses on collaborative communication.
"My experience as a retail manager and a student has highlighted how ill-prepared many people are at giving and receiving constructive feedback. A lot of us are conflict avoidant and this has such a negative impact on our success as individuals and as a team. I'm hopeful that by sharing some applied skills for this people can feel more empowered when entering difficult conversations," said Huey.
"It's been amazing to watch and support the development of these exceptional students over the past three years. We're all extremely excited to see their future contributions to our society. These students will be strong leaders in any organization. They are the future of the Yukon and the North," said Rodney Hulstein, chair, School of Business and Leadership, Yukon University.
Participants at each workshop are eligible to win door prizes sponsored by Total North, Alkan Air, Northwestel and YukonU. Prizes include a set of Apple Air Pods, a one-hour flight simulator lesson, and In-Reach Monitor and YukonU branded merchandise.
For more information and to register for the workshop series go to facebook.com/FindYourInnerGuruWorkshopSeries.
For more information about the Bachelor of Business Administration, please visit YukonU.ca.
For more information, please contact
Related content