YukonU's Dr. Maggie Matear named as next president of Selkirk College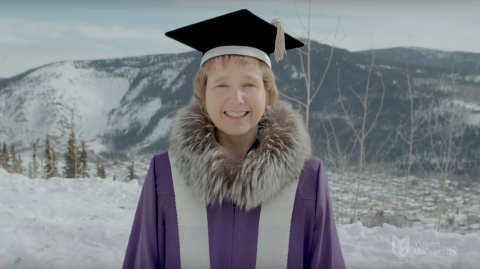 February 1, 2022
WHITEHORSE, YT—The Selkirk College Board of Governors announced this morning they have named Dr. Maggie Matear as their next president.
Dr. Matear joined Yukon University in 2019 as vice president of university services. She led the university as interim president and vice chancellor from September 2020 to August 2021 as it navigated the uncertainty of the pandemic.
"Dr. Matear will be a wonderful addition to Selkirk College and their communities. She brings strong experience in community development and post-secondary leadership, as well as an informed understanding of the unique value that a multi-campus model brings to a region," said Dr. Lesley Brown, president and vice chancellor, Yukon University.
"I am especially grateful to Maggie for her leadership at Yukon University and her support during my transition. On behalf of the Yukon University community, I thank Maggie for her dedicated service to YukonU and wish her the very best in her exciting new role with Selkirk College," added Dr. Brown.
"I'm grateful and honored to have been part of the journey transitioning YukonU from college to university, and the progress we've made towards more positive relationships with our key stakeholders," said Dr. Matear. "I'm sad to be leaving my friends and colleagues here, but I'm really excited about this next chapter of my career at Selkirk College."
Dr. Matear will assume her new role in May 30, 2022.
Selkirk College offers more than 60 programs to 2,700 full-time students and more than 9,000 community learners in nine campuses and learning centres throughout the West Kootenay and Boundary regions of British Columbia.
For more information, please contact
Related content