Dr. Lesley Brown appointed president and vice chancellor of Yukon University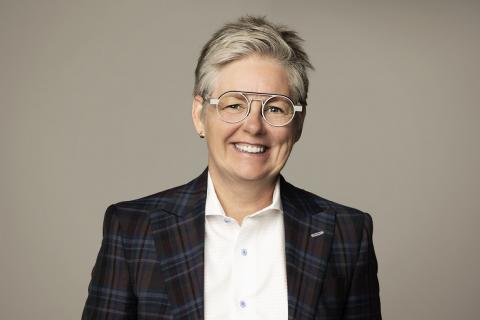 June 23, 2021
WHITEHORSE, YT—The Yukon University Board of Governors is pleased to announce the appointment of Dr. Lesley Brown as president and vice chancellor of Yukon University, Canada's first university north of 60. Brown takes up her new role August 16.
Brown was most recently provost and vice president, Academic, at Mount Royal University (MRU) in Calgary. In this role, she oversaw all facets of educational programming and research at MRU, which evolved into a university in 2009. Under her leadership, Mount Royal University experienced significant growth in student enrolment, faculty research success, and academic programming, including the establishment of a long-anticipated Bachelor of Social Work program.
Before this, Brown compiled an exemplary record at University of Lethbridge, serving as a faculty member and an administrator in a number of roles including vice president Research (interim), associate vice president (Research) and vice provost (Academic).
In addition to being a proven leader, Brown is an accomplished scholar in the field of Kinesiology, with a research specialization in balance and fall prevention in the elderly and people with Parkinson's disease.
"Yukon University's exceptional potential to broaden its scope of impact through teaching excellence, research and student success, along with its deep commitment to Indigenization, Reconciliation and community education, is what attracted me to this opportunity. As I moved through the interview process it became very evident that Yukon University is poised to influence the future of Canada's Northern and Arctic regions and its people. I am so honoured to step into this role," said Brown.
"Dr. Brown brings over 20 years experience as a collaborative professor, researcher and administrator—all with a student-centered focus. Throughout the search process, Dr. Brown impressed the committee with her insights and vision. We believe she is the right choice to lead YukonU as we grow into our new status as a hybrid university," said David Morrison, chair, Yukon University Board of Governors.
Brown holds a PhD in Kinesiology from the University of Waterloo, a Master of Human Kinetics in Biomechanics from the University of Windsor and a Bachelor of Physical Education from McMaster University. She also completed a three-year postdoctoral research fellowship at the University of Oregon.
In 2009 and 2011, she was recognized by the University of Lethbridge for excellence in teaching at the undergraduate level. In 2019, she was named to the Calgary Herald's list of Compelling Calgarians.
Brown has served on numerous organizations at the provincial and national level. These include Social Science & Humanities Research Council of Canada (SSHRC), the research advisory committee and board of the Alberta Rural Development Network, Parkinson Alberta and the Alberta Epigenetics Network. She has also served as the Vice-Chair of the Alliance of Canadian Comprehensive Research Universities (ACCRU), and as a member of the Executive Steering Committee for the Alberta Strategy on Patient Oriented Research.
Brown and wife, Paddy, will move to Yukon this summer. They are the parents of Emily, who works in Infection Prevention with Alberta Health Services, Ian, a Heavy Duty Mechanic with Teck Mines and their youngest, Davis, a final year medical student at the University of Calgary.
Brown steps forward to lead YukonU as it settles into its new university status and the board prepares to launch a new strategic plan, created with input from students, faculty, staff, First Nations and stakeholders across the territory, to guide the institution for the next five years.
Dr. Maggie Matear will continue serving as interim president until Brown assumes her duties as president and vice-chancellor in August. At that time, Matear will resume her role as vice president, Finance and Administration.
"Without hesitation, Dr. Matear graciously accepted the board's invitation to take on the role of interim president and has done a wonderful job leading Yukon University during this unprecedented pandemic year. On behalf of the entire YukonU community, the board thanks Dr. Matear for her thoughtful, compassionate and collaborative leadership this past year," said Morrison.