Thrive campaign with Wykes' Your Independent Grocer raises over $7K for students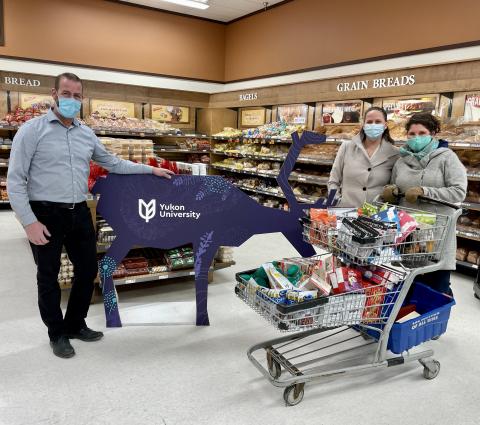 December 23, 2021
WHITEHORSE, YT—Generous Yukoners have raised $7429 to nourish YukonU students across the territory by purchasing 2600 reusable YukonU Together We Thrive tote bags at the Wykes' Your Independent Grocer check out. The fundraising campaign and tote bags have proved so popular that owner/operator Mark Wykes has decided to keep it rolling into 2022.
Many donations were of the minimum $2 but the largest single contribution was $200.
The money raised has gone toward fresh fruit, pantry staples and holiday treats for all students in Campus Housing and students at community campuses across the territory. Funds will also contribute to stocking and maintaining the Ayamdigut Campus Student Food Bank through the next semester.
"The generosity of Wykes' Your Independent Grocer customers has been outstanding and means so much to our students. It's special to be able to partner with a local business to create this impact for students" said Dr. Lesley Brown, president and vice-chancellor, Yukon University.
"It's wonderful to see the relief for a student when they can receive a little support in providing healthy food options for themselves and their family," said Megan Skarnulis, Instructor/coordinator Student Success.
Just twenty donors opted to enter the draw for a YukonU hoodie which was won on December 17 by Hope Snider.
For more information, please contact
Related content