Wykes' Your Independent Grocer and YukonU team up to address student hunger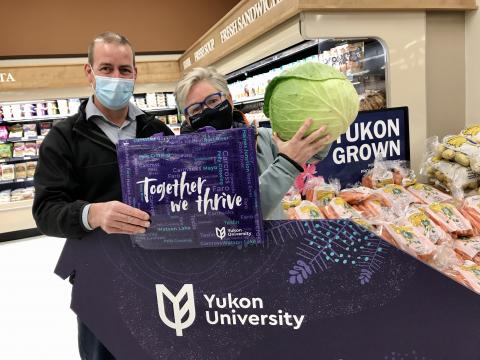 October 1, 2021
WHITEHORSE, YT—Wykes' Your Independent Grocer and Yukon University are teaming up to nourish YukonU students for Thanksgiving and into the holiday season.
Starting today, Wykes' customers are invited to help alleviate student hunger by donating a minimum of $2 at the checkout in exchange for a reusable YukonU Together We Thrive tote bag. All funds raised will go towards emergency grocery cards and replenishing the Ayamdigut campus student food bank.
"Donating just $2 for a reusable YukonU tote bag helps the environment, helps you get your groceries home and helps students who face food insecurity. I'm grateful to Mark Wykes and his team for collaborating with us to support YukonU students." said Dr. Lesley Brown, president and vice chancellor.
"I'm thrilled the Wykes' Your Independent Grocer team and our customers can come together to help YukonU students focus on their studies rather than where their next healthy meal is coming from," said Mark Wykes, owner/operator, Wykes' Your Independent Grocer.
"Many of our students juggle school, families and jobs and, when they need it, aren't always able to access community supports.. This initiative ensures they have access to healthy food choices when they're most in need," said Blake Buckle, YukonU director of Development.
After taking home their grocery tote bag(s), Wykes' customers can also enter a draw to win a YukonU hoodie. Information on how to enter the draw can be found on a handout included in every tote bag.
For more information, please contact
Related content