Yukon Innovation Week 2021 will engage Yukoners to build sustainable communities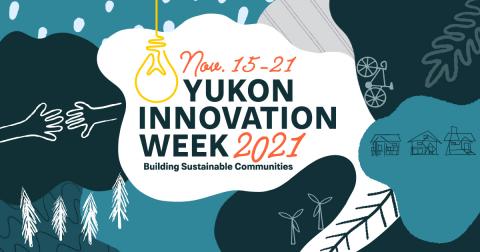 November 8, 2021
Yukonstruct, YukonU Innovation & Entrepreneurship, and Creative Lab North are launching Yukon Innovation Week 2021 to engage Yukoners with the theme of building sustainable communities. Yukon Innovation Week offers a week-long series of free events across the territory to spark the spirit of innovation and support Yukoners to tackle tough issues in the North. Following the success of the inaugural event in 2020, Yukon Innovation Week 2021 will run from November 15 to 21.
"Innovation is about solving problems and thinking differently. Yukon needs many voices and many hands to build strong, sustainable communities across the territory," says Lana Selbee, Executive Director of Yukonstruct. "We invite Yukoners to join us for Yukon Innovation Week and help bring positive change to life in the Yukon. By working collaboratively, we will look at how to address challenges in the territory like housing, renewable energy and wellness."
Yukon Innovation Week events will give local innovators, entrepreneurs, social enterprises, community organizations and citizens ways to think differently, tools and inspiration to tackle tough challenges, and connections to problem solvers and resources across the Yukon. Events will include the Hall of Innovators Awards (Nov. 18), a social lab, panel discussions, lunch and learns, info sessions, workshops and more. The week will culminate with the Project Accelerator (Nov. 19, 20) for individuals/groups to drill deeply into their projects/ideas, move them forward, and present an ask to a room of people who may be able to help.
"We want to involve people who don't think of themselves as 'innovators' but who are interested in seeing their communities become stronger and more sustainable," says Lauren Manekin Beille, Department Head, Innovation & Entrepreneurship, Yukon University. "The goal is to spark discussions, so Yukoners work creatively together to solve some of our toughest challenges."
The events will run in-person and online, so that Yukoners across the territory can participate and share knowledge. Events held on Yukon University campuses have COVID-19 restrictions. Building Sustainable Communities of the Future on Nov. 16 from 6-9 pm will feature Katie McPherson, Resilience and Foresight Practitioner. "I am looking forward to applying the futures and foresight lens to building sustainable communities in the Yukon. I've used the futures and foresight methodology to help build sustainable cities and am keen to explore the unique challenges and solutions specific to the Yukon through this work. Futures and foresight planning is an emerging area of study and being used to address challenges on a global scale—it feels very appropriate and exciting to be included in Yukon Innovation Week." A full listing of events and registration details are available at yukoninnovationweek.com.
"Social Labs represent a whole-systems view to develop a common understanding through an experimental process that brings together diverse actors who are ready to act. We are excited to introduce this concept and begin this work as part of Innovation Week," says Micheal Mooney, Executive Director of Creative Lab North.
Yukon Innovation week is presented by Yukonstruct, Yukon University Innovation & Entrepreneurship, Creative Lab North, with many partners across the Yukon.
For more information, please contact