University of the Arctic board met in Whitehorse this week
November 26, 2019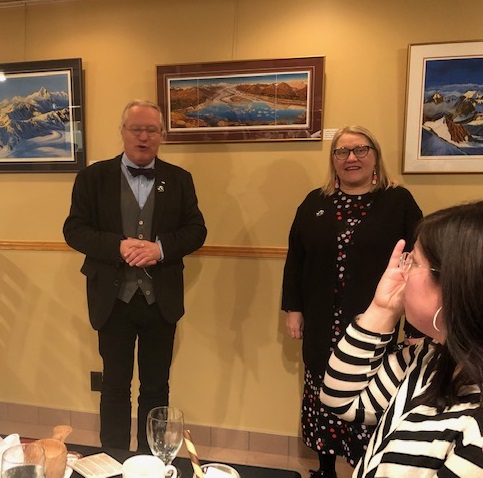 WHITEHORSE, YT—The Board of Governors for the University of the Arctic (UArctic) met at Yukon College in Whitehorse this week. 
The board members represent eight circumpolar countries — Sweden, Finland, Norway, Iceland, Denmark, Switzerland, USA and Canada. Sixteen people were present including Yukon College President and Vice Chancellor Dr. Karen Barnes who is currently serving on the UArctic board and Yukon College Associate Vice President Indigenous Engagement and Reconciliation Tosh Southwick who currently serves as Vice President Indigenous for the UArctic Senior Leadership Team. 
The board discussed the next UArctic strategic plan and fundraising strategy. Also, Yukon College Instructor and School of Liberal Arts Chair Amanda Graham presented a history of circumpolar academic collaboration.  
This is the first time the board meeting has been held in Whitehorse.  
"We are delighted to be here in Whitehorse. Yukon College is a founding member and continues to play an important role in the network. We are here to discuss the long-term vision and future of the University of the Arctic. I believe in the years to come we will look back and recognize this meeting in Yukon as one of the most important in UArctic history," said Peter Sköld, UArctic board chair and director of Arctic Research Centre at Umeå University, Sweden. 
In the late 1990s and early 2000s, then-Yukon College president Sally Webber and then-dean of Applied Arts Aron Senkpiel were both instrumental in the development and establishment of UArctic, which occurred in 2001.  
The Bachelor of Circumpolar Studios is the signature UArctic program. Graham has taught one of the seven core courses from Yukon College each year since 2004. Graham estimates that close to 30,000 students globally have accessed UArctic courses over the past 15 years. 
The University of the Arctic (UArctic) is a 212-member international cooperative post-secondary network based in the Circumpolar Arctic region, consisting of universities, colleges, and other organizations with an interest in promoting education and research in the Arctic region. The UArctic mission is to empower the people of the Circumpolar North by providing unique educational and research opportunities through collaboration within a powerful network of members. 
for more information, please contact: