Stay informed about student activities, events, important Admissions announcements, campus safety, academic and wellness supports, and more! Our student communications platforms provide up-to-date information that will help you succeed in your studies at YukonU.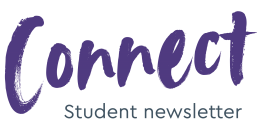 Connect, student newsletter
Subscribe to receive Connect, YukonU's student newsletter, in your inbox every second Wednesday! Stay up to date on all things YukonU: important Admissions information, events, activities, resources, supports, and more.

YukonU app
The YukonU app can be found on app stores for Apple and Android mobile devices by searching for "Yukon University". Please be sure to enable notifications in order to allow emergency notifications to reach you.
Get social and stay up to date on all things YukonU! #YukonU  #YukonUstudentlife  
Stay informed on-campus and at a distance
When visiting Ayamdigut campus, check for opportunities, activities and events promotion on poster boards and TV screens throughout the campus. Check in with your community campus staff to learn how they communicate on- and off-campus.