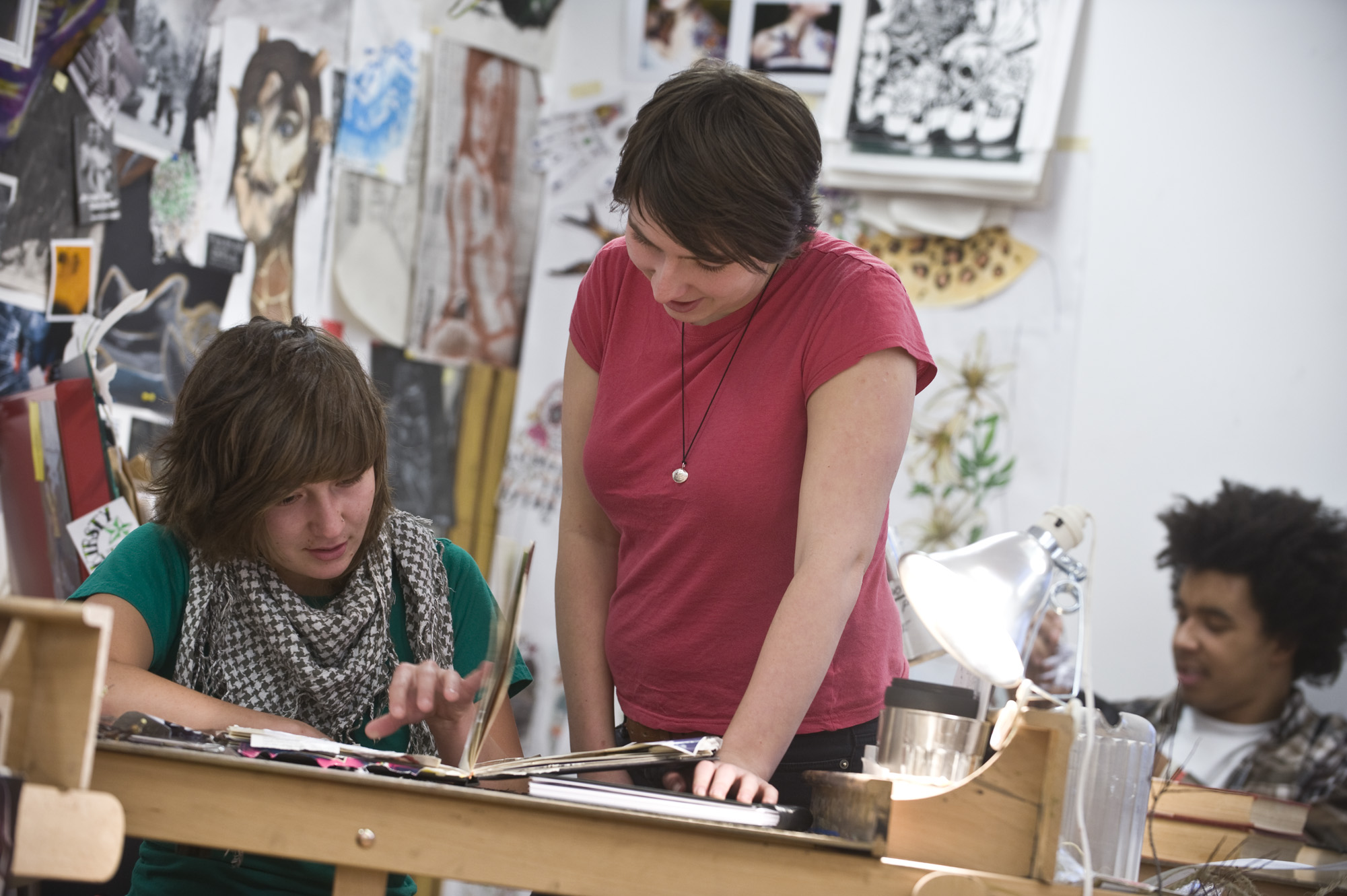 World-class instruction in a unique, historic, subarctic community
Surrounded by the beauty of Dawson City, the Yukon School of Visuals Arts' certificate program offers intimate class settings, integrated approaches to studio and academic practices, and the fundamental knowledge and skills required to pursue a Bachelor of Fine Arts (BFA) degree. The Yukon School of Visual Arts is governed through a partnership between Yukon University, the Dawson City Arts Society, and Tr'ondek Hwech'in First Nation.
Yukon SOVA & COVID-19
In the 2021-22 academic year, the Visual Arts program at the Yukon School of Visual Arts will be offered through a blend of in-person studio courses, with masks mandatory, and blended online English and visual culture studies courses. Students should be aware that they may be required to go into self-isolation period upon arrival in Dawson City.
Contact the Yukon School of Visual Arts for assistance or for more information about Yukon SOVA's COVID-19 protocols.
Program description
The Dawson City Arts Society, Yukon University and Tr'ondek Hwech'in have designed an accredited visual arts program, which offers students the opportunity to learn a variety of traditional and contemporary visual arts disciplines and to study art history.
This program is offered in Dawson City, Yukon through the Yukon School of Visual Arts (Yukon SOVA). The program is accredited at Yukon University and transferable to Emily Carr University, University of the Fraser Valley, ACAD University, OCAD University, and NSCAD University.
With a focus on contemporary international art practices and a visual culture studies approach to art history, this program delivers courses in a holistic environment, recognizing how both intuitive and learned knowledge are used when one engages with and produces art.
The program's integrated approach to studio and academic practices offers the learner the opportunity to make connections between:
art making, art history, art theory and art criticism
multiplicity of cultures and historic periods
a variety of materials, techniques and modes of expression.
This approach encourages students to connect theory to practice, and recognize the relationships between art, their lives and their communities.
Admission requirements
Grade 12 academic graduation with a minimum of 65% in grade 12 English, submission of a statement of intent, and art portfolio
Note: The annual Spring application deadline is March 31 and Summer application deadline is June 1.
Yukon First Nations Core Competency
Yukon University recognizes that a greater understanding and awareness of Yukon First Nations history, culture and journey towards self-determination will help to build positive relationships among all Yukon citizens. As a result, you will be required to achieve core competency in knowledge of Yukon First Nations.
For details, visit Yukon First Nations Core Competency
Money matters
Fees
Tuition for credit programs is calculated per course credit. See money matters for more information.
Some programs and courses have additional fees -  see Ancillary Fees.
---
Student financial awards
Education is an investment in your future, your family and your community. Yukon University is pleased to support that investment by offering some of the most competitive tuition rates in the country, as well as several student financial awards to help offset your educational and living costs.
---
Financial assistance
There are government programs, scholarships, bursaries, awards and First Nation funding available to financially support you throughout your academic career.
See money matters for more information, or talk to our financial advising staff in the Student Services Centre. Email or call 867 668 5209 to make an appointment.