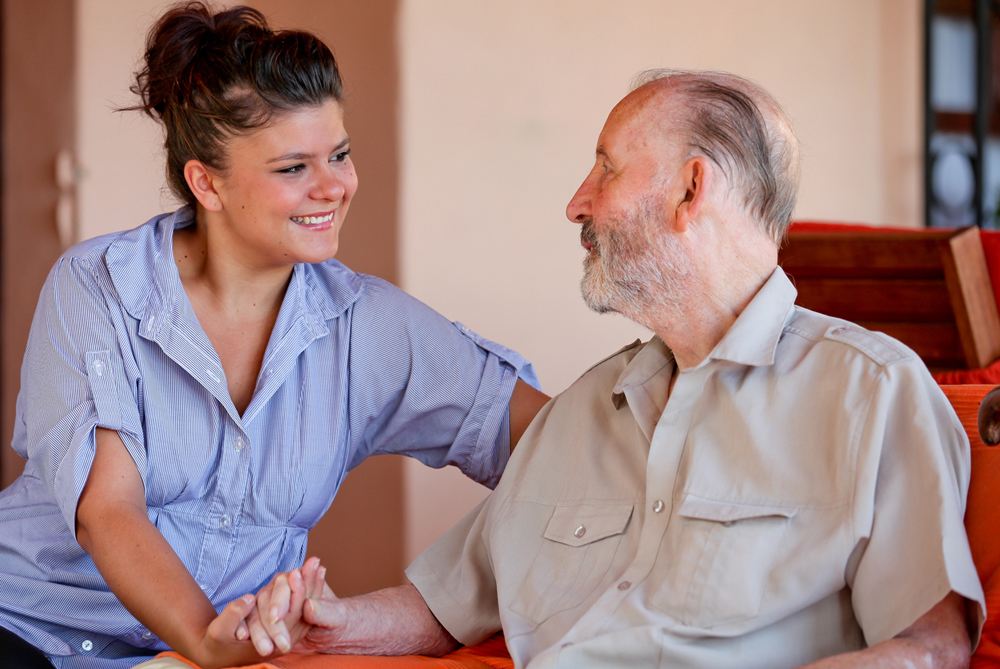 Be the face of the health care system.
The Health Care Assistant (HCA) program provides you with the skills to provide person-centered care to improve the daily life for your clients.
COVID-19 Related Program Delivery Information: PLEASE READ
While the pandemic persists, HCA courses for will be delivered through a mix of in person when safe and online methods using Zoom or platforms. Courses will have a Moodle course site as usual. Practicum placements will continue as scheduled whenever possible.
Whether classes are in person or virtual, attendance at scheduled classes is essential and expected.
Online courses will require that you access to your own computer and Internet connection. 
More information about the online platforms can be found at www.yukonu.ca/student-life/technical-resources.
Students new to online learning are encouraged to take the brief online introductory workshop Distance Learning Success.  Contact the Academic Support Centre for more information: www.yukonu.ca/student-life/learning-matters/academic-support-centre
Program description
The Health Care Assistant (HCA) program is designed to provide students with opportunities to develop the knowledge, skills and attitudes necessary to function effectively as front-line caregivers and respected members of the health care team in community and facility settings. Under the direction and supervision of a health professional, graduates provide person-centred care aimed at promoting and maintaining the physical, emotional, cognitive, social and spiritual well-being of clients/residents.
The HCA program offers the theory and practice associated with providing personal care and support to individuals within the community and in residential facilities. Personal care and support includes:
emotional support
assistance with personal hygiene and other activities of daily living
upkeep of home
food preparation
family care
Theory and practice are planned to prepare graduates to work as caring individuals who assist clients/residents to achieve maximum independence in daily living.
This program is founded on concepts of caring, safety, critical thinking and decision making, and professional approaches to practice. These provide the underpinnings for the knowledge and skills that learners gain within the program.
Some courses are shared with other programs in the University to increase options for students who wish to further their education. This multidisciplinary approach promotes readiness for employment in the community by developing the student's ability to function effectively within inter-professional teams.
Practical application of learning is basic to the program and students will be learning and working in the community throughout the program.
Classroom learning and sharing will prepare students for work experience, while work experience will enhance learning in the classroom.
---
Duration
This certificate program consists of 14 courses (39 credits). The program runs late August through May with a short break in December.
---
General outcomes
Upon completion of the HCA program, graduates will be able to:
Provide person-centred care and assistance that recognizes and respects the uniqueness of each individual resident or client.
Use an informed problem-solving approach to provide care and assistance that promotes the physical, psychological, social, cognitive and spiritual well-being of clients/residents and families.
Provide care and assistance for clients/residents experiencing complex health challenges.
Provide care and assistance for clients/residents experiencing cognitive and/or mental health challenges.
Interact with other members of the healthcare team in ways that contribute to effective working relationships and the achievement of goals.
Communicate clearly, accurately and in sensitive ways with clients/residents and families within a variety of communities and facility contexts.
Provide personal care and assistance in a safe, competent and organized manner.
Recognize and respond to their own self-development, learning and health enhancement needs.
Perform the care provider role in a reflective, responsible, accountable and professional manner.
Admission requirements
English 11 (min. 65%) and Math 10* (Application, Principles, or Foundations and Pre-Calculus) (min. 65%) OR

Mature Student status with acceptable scores  on the College Assessments (writing, reading and math)

Applicants for whom English is second language should contact the program coordinator prior to application as they may be required to complete ESL 051 prior to program start.
Application Deadline: May 31
For the 2022-2023 academic year, 6 seats will be reserved for qualified Yukon First Nation applicants. If you are a Yukon First Nation applicant, we invite you to disclose that information with our Admissions Office (admissions@yukonu.ca or 867 668 8710). Should these reserved seats remain unfilled by that date, they will be offered to other qualified applicants.
Due to high demand for seats in the Health Care Assistant program, we are not able to accept international applicants at this time. 
Other requirements
current Standard First Aid/CPR Level C
current Foodsafe Level 1 certificate
current immunization
current acceptable Criminal Records Check
WHMIS 2015   
Students are required to:
Attend HCA Information Session
Have appropriate working apparel.
Provide their own transportation to and from work experiences
It is advantageous to have basic computing skill as this is a program expectation. The University will not assess this for entry into the HCA program.
The work of a health care assistant requires physical and emotional readiness. Students need to be able to:
Maintain effective communication with patients and staff.
Provide personal care.
Lift and move residents.
Work with a variety of equipment.
Spend long periods of time on their feet while engaged in physically active work.
Be prepared to work day, evening and night shifts.
As well, they may be exposed to diseases in the course of work with patients in long-term care and in the community. Working with people requires that a student is able to remain effective in stressful situations.
Yukon First Nations Core Competency
Yukon University recognizes that a greater understanding and awareness of Yukon First Nations history, culture and journey towards self-determination will help to build positive relationships among all Yukon citizens. As a result, you will be required to achieve core competency in knowledge of Yukon First Nations.
Students in the health care assistant program will encounter many opportunities to acquire knowledge about Yukon First Nations; within the curriculum , in various workshops and through completion of YFN 101.
For details, visit Yukon First Nations Core Competency
Transferability
Transfer/Equivalency/Accreditation not yet formalized.
The Health Care Assistant program is based on British Columbia's licensed curriculum, with additional content related to the northern context. 
Some courses are cored with other Yukon University programs.
Career opportunities
Upon completion of the program, graduates are prepared to work in Continuing Care/Community Care settings including:
home support/Home Care
Long Term Care/Intermediate Care
Complex care & dementia care setting
Money matters
Fees
Tuition for credit programs is calculated per course credit. See money matters for more information.
Some programs and courses have additional fees -  see Ancillary Fees.
---
Student financial awards
Education is an investment in your future, your family and your community. Yukon University is pleased to support that investment by offering some of the most competitive tuition rates in the country, as well as several student financial awards to help offset your educational and living costs.
---
Financial assistance
There are government programs, scholarships, bursaries, awards and First Nation funding available to financially support you throughout your academic career.
See money matters for more information, or talk to our financial advising staff in the Student Services Centre. Email or call 867 668 5209 to make an appointment.