Online Registration now available for Continuing Studies courses. Before you register online, there are a few things you need to know:
If you have taken a course at Yukon University or Yukon College in the past 5 years you already have an account.

Retrieve your username Reset your password

If you do not already have an account with us, you will need to contact Admissions first.
You can only register yourself in courses. Group or third-party registrations need to contact Admissions.
Payment must be completed within 1 hour of registration by credit card or Visa debit
You will need to know Course Reference Number (CRN) of the course you want to register in before starting to register. The CRN can be found on the course schedule page.
Need help?
For help with creating a student account or registering in a course, contact Admissions
For help with making a payment, contact the Cashier Office
For more information on Continuing Studies courses, contact Continuing Studies
Step 1 - Register for Classes
Step 2 - Select term
Select the Continuing Studies term that corresponds to the course for which you wish to register. Click the Continue button.
Step 3 - Select the Enter CRNS tab

At the top of the page you will see three tabs. The first of these tabs, Find Classes, will be active. Click on Enter CRNs to reveal the CRN entry form.
Step 4 - Enter your CRN

Enter the CRN of the course for which you wish to register. The title of the course should appear next to the CRN entry field. Confirm that you wish to add this course to your basket by clicking the Add to Summary button.
Step 5 - Submit your basket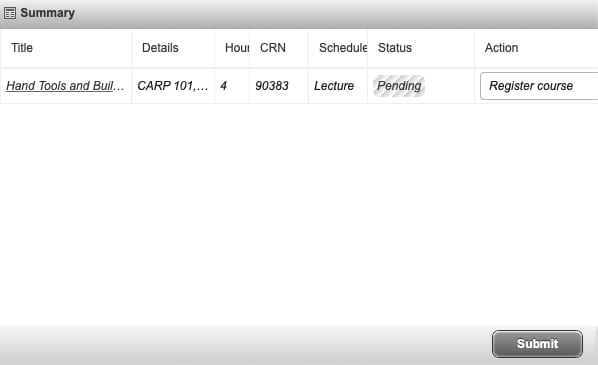 The bottom-right pane of the registration window should now display a summary showing your basket of courses pending registration. Once you are ready to complete your registration, click the Submit button at the bottom of this pane.
You will now see a message confirming that your seat has been reserved in the course pending payment. You must complete payment within the next 60 minutes to prevent your reservation from being released. Click on the blue Go to payment page link to advance to the payment processor.
Step 6 - Review term balance

Along the right side of the page you should now see a summary of your balance due. The Term Balances table will show the total amount of any courses you registered for in the Continuing Studies term.
In the navigation bar at the top of this page you should find a link entitled Make Payment. Click this button.
Step 7 - Payment form
Here you will identify how much of your account balance to pay. Select Current account balance and click Continue. Provide your VISA or MasterCard payment details to complete your payment.