Indigenous arts students take their journey of healing to Northern Europe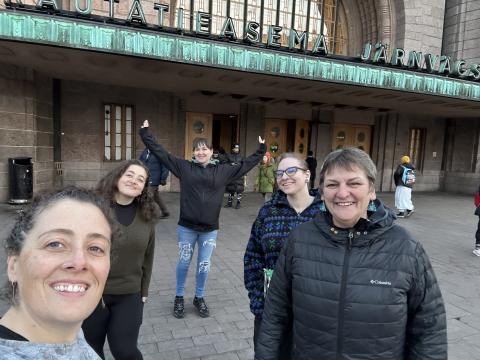 November 6, 2023
YukonU First Nation students have embarked on a healing journey through Indigenous arts, and the next stop is an exchange with the Sámi people of Norway and Finland. This exchange involves the sharing of traditional skills between two Indigenous cultures who seek to protect and revitalize their Traditional Knowledge and maintain their languages.
Over the past three years, the YukonU community campus in Mayo, Yukon, developed a series of Indigenous arts programs in response to the trauma and grief that students were facing in the community. It began with a hide-tanning workshop in partnership with the First Nation of Na-Cho Nyäk Dun, which led to a Yukon First Nations Arts program, and then garment-making and sewing programs that involved students sharing their creations in a community fashion show.
"These students have overcome tremendous life obstacles, including the loss of loved ones to hard drugs in the community, and a big part of overcoming their grief and trauma has been through programs where they sew, laugh and share, together," said Sandy Washburn, Community Adult Education Coordinator (Mayo), YukonU. "We have designed programs that have helped them to find a way forward, and this cultural and economic revitalization will be passed down through grandmas, mothers, and aunties," said Washburn.
Graduates of the Sewing Rediscovery program and members of the First Nation of Na-Cho Nyäk Dun will spend 18 days traveling through Inari, Finland and Kautokenio, Norway, visiting a variety of Sámi education and cultural institutes and community spaces. The group of five is scheduled to arrive during reindeer harvesting season where they will learn things like traditional processing, horn and hide work, fish skin tanning, and language revitalization. YukonU will share beading techniques, as well as how we provide access to post-secondary education through our 13 community campuses – this is of interest to the Sami whose education is centralized.
"The Arts and Sewing Discovery program has been an awesome experience", said Melody Hutton, student and exchange participant, YukonU. "It has felt so good bringing this great group of women together, which in turn has started bringing our larger community back together," said Hutton.
The next stage of their journey, following the cultural exchange, will focus on production of their work, and how to market their products to a local, regional, national, and international audience.
This cultural exchange was funded through the Global Arctic Leadership Initiative Fund for Indigenous and University of the Arctic's Northern Collaborative Research and Education Engagement through Memorial University. The students have received generous support from the First Nation of Na-Cho Nyäk Dun, Dana Naye Ventures, and $10K from community fundraising in the town of Mayo.
Photo caption: Exchange students stand at the Helsinki train station. Left to right: Sandy Washburn, Ashley Washburn-Hayden, Erin Profeit, Nicole Hutton, and Melody Hutton.