YukonU welcomes Dr. Fiona Schmiegelow as Dean, Applied Science and Management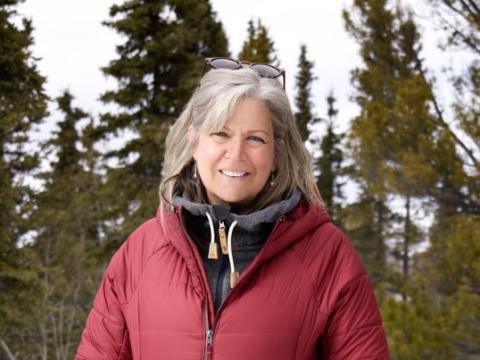 August 17, 2023
Yukon University has appointed Dr. Fiona Schmiegelow as the new Dean of Applied Science and Management for a five-year term.  
Fiona is a renowned scholar in wildlife and conservation science, and a recognized leader in landscape sustainability, who has lived in the Yukon for almost 20 years. She has directed the partnered Bachelor of Environmental and Conservation Science program hosted at YukonU, as a professor with the University of Alberta, and retains her position as senior professor during her term as Dean with YukonU. 
"Fiona is an accomplished senior scholar who will bring her experience in the university sector and offer mentorship to our faculty and students," said Dr. Shelagh Rowles, Provost and Vice-President Academic, Yukon University. "This appointment is an important step in our evolution as a university, and we welcome Fiona's expertise in supporting our strategic plan and vision of becoming a thriving learning and research community leading Canada's North." 
Fiona has published over 120 research articles that address conservation and management of northern systems and has received awards for her teaching and mentorship in these areas. Her approach is highly collaborative and involves a wide range of partners from Indigenous, government and non-government organizations, and the private sector. She shares this integrative and innovative research approach with her graduate level students in the Northern Systems Conservation Co-lab at YukonU. 
"It is a privilege to be working with Yukon University and its partners at this pivotal time in Canada's North", said Dr. Fiona Schmiegelow, Dean of Applied Science and Management, Yukon University. "Learners of all ages are the lifeblood of a university, and I look forward to supporting this community on a shared path of reconciliation and resiliency in meeting the challenges and opportunities of today and tomorrow". 
Fiona brings connections across the globe with her networks of colleagues with integrated programs. She has contributed to numerous regional, national and international science committees and advisory panels concerned with conservation and sustainable land use, and actively engages in related planning processes.  
As Dean of Applied Science and Management, Dr. Schmiegelow will oversee the Science, Business, Indigenous Governance and Trades divisions at Yukon University. 
Photo Credit: GBP Creative
For more information, please contact