Maegan Garrett exhibit opens Oct. 4 at YukonU's Hilltop Bistro
September 29, 2022
WHITEHORSE, YT— An exhibit of paintings by Maegan Garrett celebrates the beauty of the written word.
"In our world of instant gratification and disposable culture, a writer's ability to paint vivid pictures with words is something we need to hold onto. Playing with language is an underappreciated art form in a social climate of sound bites and memes. The exhibit, Wordscapes: Paintings Shaped in Books, is my way of celebrating great writing and the art of language", said Garrett.
Maegan Garrett is a visually impaired Yukon artist and registered art psychotherapist who believes creativity can heal and transform. It wasn't until her mid 30's that a diagnosis of incurable, degenerative blindness spurred her to prioritize art in her own life. Maegan is largely self-taught, and her style is constantly fluctuating in response to her sight loss.
Each of the nine paintings in the exhibit illustrates a unique first line of prose or poetry.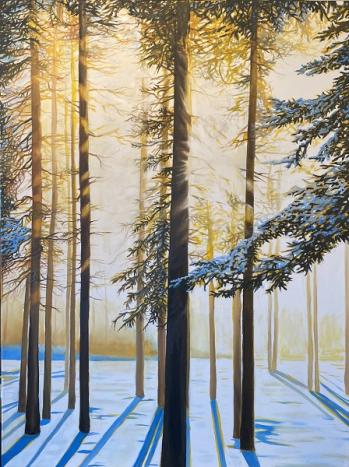 "Sometimes the first line of a piece of writing is so perfect, so sublime, that it stays with you, an imprint on the soul," said Garrett.
Garrett employs a magic realism style that blurs fantasy with reality and conveys the mood and theme of the writing. The series is a bit of a stylistic departure for the artist, who prefers to work loosely in bright watercolour inks and mixed media.
"It was definitely a struggle to paint in a more moody, representational way. I find it challenging to see details like I once did, and I had to take many breaks due to blurriness and eye fatigue," said Garrett.
The opening reception is from 5:00 p.m. to 6:00 p.m. on Tuesday, October 4, 2022, at the Hilltop Bistro at Yukon University's Ayamdigut campus. Refreshments will be served, and everyone is welcome. Each painting is for sale, and all proceeds from the sale go directly to the artist.
For more information about the artist, please visit maegangarrett.com, or Maegan Garrett Art on facebook, and @beyondblondeart on Instagram.
For more information, please contact
Related content