George Gilbert rock and mineral collection donated to YukonU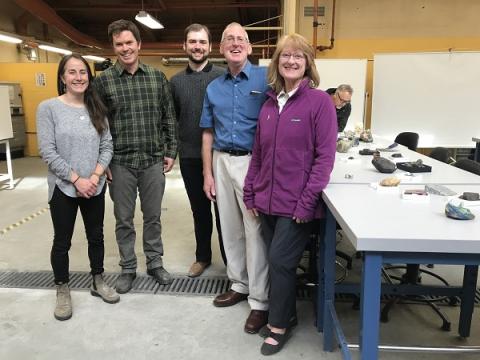 September 9, 2022
WHITEHORSE, YT—Close to 500 rock and mineral samples collected from across Yukon and the western United States by the late George Gilbert, a respected Yukon geologist and placer inspector, has been donated to the Earth Sciences program at Yukon University by Gilbert's children, Mark Gilbert and Dolly Robertson.
Gilbert lived in Whitehorse for 41 years, moving here in 1967 having been appointed Newmont Mining's resident geologist for the Yukon. He later transferred to the federal government's mining section and retired in 1989 as chief placer inspector. He passed away in February 2008.
George Gilbert's children wanted the private collection to make an impact on the education of students at YukonU.
They also included a panel crafted by their father from thin slices of rock samples from across the Yukon that hung over the fireplace in their childhood home.
"It's a tremendous honour for our family to have Dad's legacy be part of the hand-on aspect of student learning at Yukon University for many years. I hope other companies and individuals add to this collection in the decades to come," said Mark Gilbert.
The Gilbert Collection includes serpentine from the Moosehide Slide in Dawson City, muscovite from the Kluane region, chalcedony from Wolverine Creek on the Donjek River, pyrite and galena from Faro and zebra dolostone from Delores Creek on the Bonnet Plume River. The entire collection is valued at $10,005.
"We are grateful to Dolly and Mark for entrusting us with preservation of this unique collection. It's a huge addition to our teaching samples here and an incredibly valuable resource for our students," said Dr. Joel Cubley, Earth Sciences program instructor and coordinator.
"It's exciting to be able to use this collection in class." said Sheilany Bouchard, a second year Earth Sciences student. "Matching each sample to actual areas in the Yukon is meaningful." 
 
"Holding this sphalerite from Elsa and identifying the properties in the rock is much more substantial compared with just reading it from a book," added fellow student Chris Penner.
Photo captions:
1. (L-R) YukonU Earth Sciences faculty Mary Samolczyk, Dr. Joel Cubley and Dr. Chad Morgan, with Mark Gilbert and Dolly Robertson.
2. (L-R) Dolly Robertson tells students Chris Penner and Brayden Klassen about the rock panel that hung over the Gilbert fireplace
3. (L-R) Sheilany Bouchard and Chris Penner.
4. (L-R) Earth Sciences students Mark Inkster, Eve Freschette, Kieran McClenahan, Brayden Klassen.
For more information, please contact
Related content