YukonU launches 2022-27 Strategic Plan: Becoming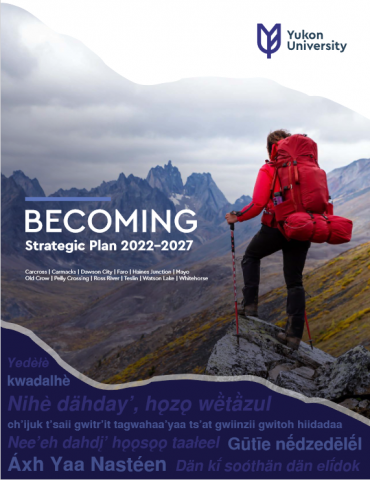 April 4, 2022
WHITEHORSE, YT—Yukon University Board of Governors has released a new Strategic Plan, Becoming, which sets out the journey ahead for YukonU to realize the promise and potential of being Canada's first university North of 60.
Within the plan are five commitments that will guide the actions and decisions of the university across the next five years.
Build our identity and nurture our culture as a university
Take our place in advancing reconciliation

Continue to develop our northern expertise

Develop bold thinkers and confident change leaders

Be leaders for the common good
"We are grateful to Yukoners for their feedback on where they would like to see us in 2027. We are excited to get to work on fulfilling their vision for all that Yukon University can be," said David Morrison, chair, Yukon University Board of Governors.
"Yukoners have identified where our potential lies and how we can best serve and shape our territory and the North. It's an honour to lead Yukon University in our journey from being named a university to fully becoming one," said Dr. Lesley Brown, president and vice-chancellor.
The plan was crafted with the input of over 600 Yukoners, including many students, faculty and staff. 445 people responded to the initial digital survey.
In addition, a series of video conferences were held seeking input from Yukon First Nations governments, the business community, municipal leaders, Indigenous youth and elders, community campus committees, the Yukon University Foundation, as well as the President's Advisory Committee on First Nations Initiatives (PACFNI) and the governing council for the Centre for Northern Mining Innovation.
For more information about Becoming, the 2022-27 YukonU Strategic Plan, please visit YukonU.ca/becoming.
For more information, please contact