NorthwesTel and YukonU partner to celebrate grads with virtual convocation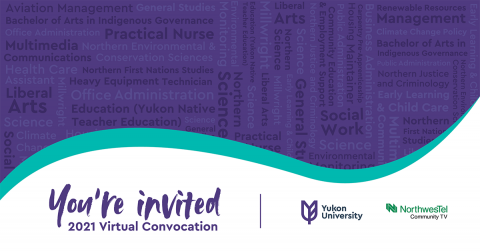 May 12, 2021
WHITEHORSE, YT—Yukon University has partnered with NorthwesTel Community TV to celebrate degree, diploma and certificate graduates from 2020 and 2021 virtually this Friday.
A one-hour program will air at 5:30 p.m. via NorthwesTel cable channel 209 in Whitehorse and at yukonu.ca/grad for everywhere beyond Whitehorse.
"We're thrilled to have NorthwesTel Community TV partner with us to produce a virtual celebration of the first two graduating classes of Yukon University," said Dr. Maggie Matear, interim president and vice chancellor.
"These students have persevered against the incredible challenge of COVID-19 in their personal, work and school lives and shown amazing resilience earning their degrees, diplomas and certificates. We hope family, friends and loved ones can join us on Friday, from across Canada and around the world, in celebrating their graduate's remarkable achievement," added Dr. Matear.
"At Northwestel Community TV, we help tell Northern stories. Celebrating the amazing achievements of Yukon University's first group of graduating students is an essential Northern story. It's a milestone event for these graduates—one which we are proud to document and share," said Mike Gravitis, manager of Northwestel Community TV.
The show features welcomes and congratulatory messages from Ta'an Kwäch'än Council Chief Kristina Kane and Kwanlin Dün First Nation Councillor Jessie Dawson, a keynote speech from Dr. Paul Genest, senior vice-president of Power Corporation of Canada, and a valedictory speech from Bachelor of Arts in Indigenous Governance graduate and Kluane First Nation citizen Colesen Ford.
It opens with a short video introducing the ceremonial convocation antler which would traditionally lead the procession of students, faculty and guests into the Yukon University Convocation carried by the valedictorian graduate. Created by local filmmaker Brendan Preston, the video features youth members of the Kwanlin Dághàłaan K'e Dancers alongside Colesen Ford.
During the show, Chancellor Jamena James Allen will confer honorary degrees on two notable Yukoners for their incredible contributions to the territory.
The virtual celebration will close with the names of the 407 graduates from 2020 and 2021, and the programs they are graduating from.
At yukonu.ca/grad people can view of the full list of graduates alongside congratulatory messages from faculty, staff and local dignitaries. Graduates can select a special social media profile picture frame to identify themselves as the Class of 2020 or 2021 and follow a link to personalized YukonU clothing from the campus store.
For more information, please contact
Related content