Virtual engagement service wins 2021 Yukon Innovation Prize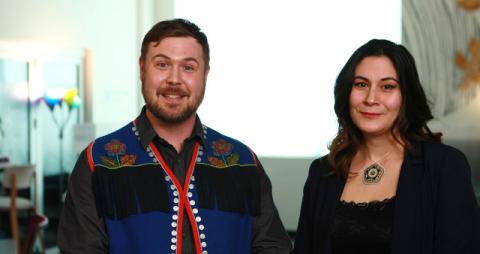 April 30, 2021
WHITEHORSE, YT— The winners of the seventh annual Yukon Innovation Prize (YIP) have been chosen. YukonU's Innovation and Entrepreneurship (I&E) is pleased to announce that Gúnta Business has won the grand prize of $30,000 for a virtual engagement service designed to meet the needs of northern communities.
The theme for this year's prize was finding creative solutions that address challenges from the global pandemic. Blair Hogan and Jessie Stephen, owners of Gúnta Business, designed a virtual engagement service to ensure First Nations communities can host events, like First Nation General Assemblies, and maintain meaningful and safe engagement with their citizens during the pandemic.

"We created a way for First Nations communities to host and participate in community meetings and celebrations during the global pandemic; and to our surprise, we have broken records of community engagement from before COVID-19," said Blair Hogan, owner, Gúnta Business. "Our service allows for community members to engage in real-time, and without technological barriers or other limitations to meaningful participation; including more youth and outside citizens than ever before."
In addition to the $30,000 grand prize to Gúnta Business, six prizes of $6,500 were awarded to Yukon Organics (food security), Hummingbird Mobile Health (health), OUTFRNT (food security), Alpine Solutions Avalanche Services (recreation), Bravespark Leadership team (social change and Indigenous leadership), and Whispering Willows Records (cultural industry). These six winners - half of whom are women - will also benefit from wrap-around services from I&E.
"Yukoners have been faced with unique challenges during the pandemic and we are excited by the creative products and services that were submitted to the Yukon Innovation Prize," said Lauren Manekin Beille, Department Head, Innovation & Entrepreneurship. "Our innovation team will continue to support these entrepreneurs in furthering developing their ideas with benefits to our economy, health, and society."
The Yukon Innovation Prize was created in 2014 by the Government of Yukon's Department of Economic Development and Yukon University to encourage the local development and delivery of innovative products and services.
Innovation & Entrepreneurship (I&E) is a Yukon University service that supports innovators and entrepreneurs through funding, resources, expertise and incubation. I&E is located at NorthLight Innovation with funding contributions from Government of Yukon Department of Economic Development and the Canadian Northern Economic Development Agency (CanNor).