Ketza Construction donates $250k to support trades and students at YukonU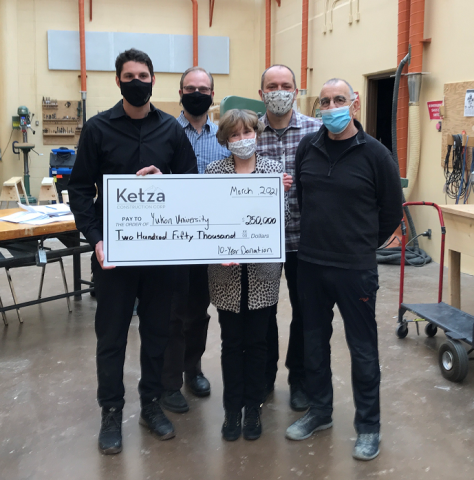 March 29, 2021
WHITEHORSE, YT—Ketza Construction Corporation has donated $250,000 to Yukon University in support of carpentry programming and student success.
"As a locally owned and operated company, we know the value to our community of hiring locally for our building projects. The comprehensive trades training available at Yukon University has for many years provided, and continues to provide, the construction industry here with quality apprentices and entry-level trades people. We are thrilled to make this donation in support of student and apprentice success at YukonU," said Peter Densmore, Ketza Construction president and founder.
"Ketza Construction's donation highlights the value of trades training to communities across Yukon, as well as the importance of trades in our hybrid university model," said Dr. Maggie Matear, interim president and vice chancellor, Yukon University.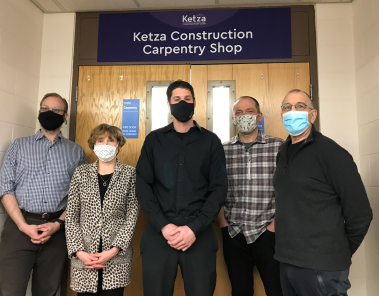 "In honour of Ketza Construction's gift to the University, I'm pleased to announce that 'Ketza Construction Carpentry Shop' is the new name for our carpentry training space at Ayamdigut campus," added Dr. Matear.
Half of the donation from Ketza Construction will directly support carpentry programming and half will support other YukonU priorities related to student development and success.
The Ketza Construction Carpentry Shop is the first physical space at YukonU named after a donor. The University hopes this will become a model for industry and community engagement with university programming and priorities.
Over the past decade, in partnership with the Governments of Yukon and Canada, YukonU has expanded apprenticeship training to include all levels of Carpentry, Electrician, Welding, Heavy Equipment Technician, and Pipe Trades, plus introduced Millwright pre-apprentice and Introduction to Mine Operations training.
For more information, please contact