Lenovo and Leith Wheeler gift laptops and internet packages to YukonU students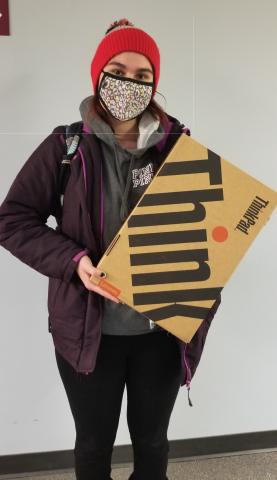 February 18, 2021
WHITEHORSE, YT—Forty, full-time Yukon University students are receiving a brand-new laptop this month to support their educational success during the COVID-19 pandemic. Seventeen will also get a one-year internet package.
Lenovo kickstarted this generous initiative by donating 40 ThinkPad laptops. Leith Wheeler Investment Counsel jumped onboard to donate support for eight internet packages. When seventeen students were identified as needing internet support, a Yukon University Foundation board member and an anonymous donor stepped forward to support an additional nine internet packages.
"The pandemic has shone a spotlight on the importance of technology in education, but unfortunately, not all students have access to the devices needed to continue their studies at home," said Colin McIsaac, executive director and general manager of Canada at Lenovo. "The rapid transition from in-class to e-learning has highlighted the deep digital divide among students that is growing more rapidly due to COVID-19. We are honored to be able to provide these laptops to Yukon University students to enable them to continue with their education remotely during the pandemic."
These laptops are part of Lenovo's continued support of communities in response to COVID-19. To date, Lenovo has donated more than USD$15 million to schools, hospitals and community partners around the world – including USD$5 million in North America. This includes more than 400 laptops to schools across Canada.
"Our partners are very proud to support this initiative," said Andrew Hoffman, a portfolio manager at the national, independent investment firm, Leith Wheeler Investment Counsel. "Education is one of the key pillars of our giving, so to be able to support students in Canada's north through the pandemic presented a unique and exciting opportunity to help."
Faculty and support staff nominated students who would benefit most from this initiative. Priority was given to students residing outside of Whitehorse in rural Yukon communities and to those residing in remote locations across the North.
"Before, I was borrowing from friends and using whatever public computer I could find to get my assignments done. This gift has helped me in achieving my academic goals and staying on task. It means the world to me to be able to use my new laptop in the comfort and safety of my own home, especially in these trying and uncertain times," said Stormy Bradley, a student in Dawson City.
"My computer crashed all the time. It would take 15 minutes to just to boot up. It was so slow it took me five hours to make one PowerPoint presentation. Receiving this laptop is like being in a holey, one-paddle lifeboat in the middle of a windy lake and being rescued by a slick jet boat. It is fast. It is responsive. I am super grateful to have this new device," said Elise Brown-Dussault, a Bachelor of Science student in Whitehorse.
Yukon University is supplying headsets and installing Microsoft 365 software onto each laptop so they can be used by students for their classes right out of the box. The total value of the entire initiative is $50,000.
"Lenovo, Leith Wheeler and our other donors have provided an incredible gift to students. Access to technology and internet is a challenge across the North, especially for those living outside capital cities, and especially during COVID response measures, which has limited travel across Yukon," said Dr. Maggie Matear, interim president and vice chancellor.
Thirty-three students have been selected thus far, including some studying from Dawson City, Haines Junction, Carmacks, Atlin and Inuvik. The remaining seven packages will be distributed as students are nominated.
For more information, please contact