Yukon innovator commercializes the SUPStick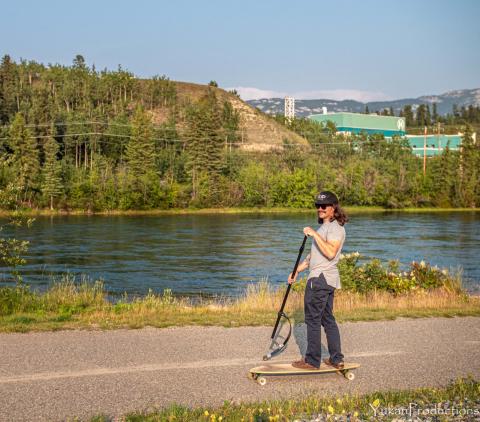 December 18, 2020
Yukon University's Innovation & Entrepreneurship (I&E) is pleased to announce that a local I&E innovator has moved their business idea through to commercialization. The SUPStick land paddle, invented by Brennan Innovations Inc., is now available for purchase on its newly launched website.
Over the last five years, I&E has helped Joel Brennan, president of Brennan Innovations Inc. and developer of the SUPStick, in making his idea a reality. The SUPStick is an ergonomic dry land Stand Up Paddle (SUP) designed to simulate the feeling of being on water, while using a skateboard on land. I&E played a central role in helping Brennan actualize his idea by supporting him through prototype design, manufacturing and testing, intellectual property protection, and product development.
"I&E is here to support Yukon innovators like Joel Brennan by moving their ideas from concept to commercialization", said Eoin Sheridan, Project Innovation Officer, Innovation & Entrepreneurship.
"Our door is always open, and we will continue to support Yukoners in research, innovation, and commercialization." I&E provided funding access and the services required at each stage of the innovation process. These wrap around services included applied research and development, business mentoring, intellectual property counsel, and consultation with entrepreneurs whose experience and knowledge were specific to Brennan's business needs.
"I went from an initial sketch on a napkin to a market ready product thanks to the support of Innovation & Entrepreneurship", said Joel Brennan, president, Brennan Innovations Inc.. "If it wasn't for the opportunities offered through I&E, the cost of design and intellectual property protection would not have been feasible on my own", said Brennan.
Joel Brennan has graduated from the innovation support services at Innovation & Entrepreneurship and is now manufacturing his SUPStick with an estimated first ship date of January 2021. Orders can be placed on the SUPStick website.
Innovation & Entrepreneurship (I&E) is a Yukon University service that supports innovators and entrepreneurs through funding, resources, expertise and incubation. I&E is located at NorthLight Innovation with funding contributions from Government of Yukon Department of Economic Development and the Canadian Northern Economic Development Agency (CanNor).