Industrial disturbances are contributing to decline of boreal caribou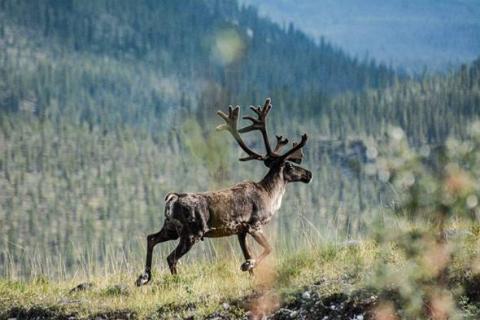 August 31, 2020
 A research paper released this month confirmed that significant declines in boreal caribou herds over the past 30 years are due to habitat disturbance. "Boreal Caribou Can Coexist with Natural but Not Industrial Disturbances", was published in the Journal of Wildlife Management by five co-authors including Yukon University and University of Alberta professor, Dr. Fiona Schmiegelow. The paper concludes that caribou can persist with wildfire but will continue to decline in disturbed areas as a result of cumulative industrial activities if preventative or mitigative actions are not taken. 
Boreal woodland caribou span nine provincial and territorial jurisdictions and overlap Canada's most valuable natural resources: oil, gas, minerals and timber. This species is a recovery priority under the Canadian Species at Risk Act with fewer than one third of the herds categorized as self-sustaining. The researchers examined caribou habitat disturbance in Alberta and found that caribou can coexist with wildfire but not in combination with industrial development.  
"Industrial development causes habitat fragmentation and vegetation change resulting in increased vulnerability to predators and additional stressors on caribou populations," said Dr. Fiona Schmiegelow. "Limiting habitat disturbance due to industrial activities helps reduce this stress, and mapping where industrial activity does occur provides critical information to inform management decisions."  
Population models are traditionally used to assess wildlife and inform management, and this paper suggests that these models need to be evaluated and updated with the latest information to bolster confidence in their application. The authors conclude that the development of strategies to prevent population decline are key to sustaining caribou in relatively undisturbed landscapes where they may still thrive. 
"In Alberta there is limited potential for caribou persistence without intensive and expensive interventions that still may not reverse declines," said Dr. Schmiegelow. "Yukon is one of the few remaining jurisdictions with caribou populations that still support harvest, but with climate change and increased resource exploration and development, Yukon could see declines similar to other jurisdictions." 
The research team consists of Frances Stewart, Natural Resources Canada; Joshua Nowak, University of Montana; Tatiane Micheletti, University of British Columbia; Eliot McIntire, Natural Resources Canada; Steven Cumming, Laval University; and Fiona Schmiegelow, University of Alberta and Yukon University. 
Dr. Fiona Schmiegelow is the program director for the Northern Environmental and Conservation Sciences degree program through the University of Alberta and Yukon University. 
Photo credit: Gabriel Rivest
About YukonU  
Yukon University is a flexible post-secondary institution that includes a place and pathway for every learner. Our students are grounded in education and research relevant to the North. Our resourceful and creative graduates are building a resilient, versatile and ambitious future for all northerners.  
With over 50 degree, diploma, certificate and trades programs, local learners can access opportunities without needing to leave home — those from across Canada and internationally are invited to deepen their understanding of our rapidly changing circumpolar world.   
Our 13 campuses are located on the traditional territories of the 14 Yukon First Nations. We respect and honour Yukon First Nations knowledge, worldviews and educational priorities in every aspect of YukonU. 
For more information, please contact